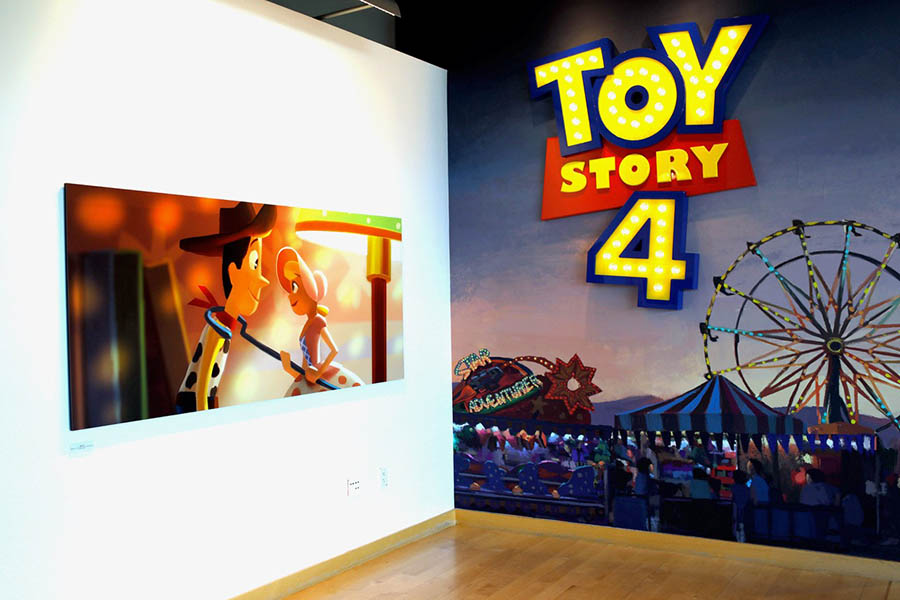 A while back I had the opportunity to visit Pixar Studios in Emeryville, CA for the Toy Story 4 Long Lead Press Day, which consisted of presentations, interviews, tours and, of course, arts and crafts. Also included, coming to terms with the fact that I spent a good chunk of my kids' inheritance on gift shop swag, most of which they'll quickly outgrow.
Life is full of hard decisions.
Thankfully, being wowed by the Pixar experience isn't one of them. The minute you enter the main building (the Steve Jobs Building), you can feel the electricity of creativity in the air. You can see the detail in construction, a foundation inspiring an openness of community. It is a mix of brick and lighting, floating steel bridges across a sunlit atrium, endless art and those that make it. It would be intimidating if it weren't so inviting.
The Long Lead Press Day was full of informative nuts and bolts, the making of Toy Story 4 as shared by the talented and passionate team that created it, but it was also a look at the very culture of Pixar itself. Both are worth exploring, so here are some fun facts from the Toy Story 4 trip:
The gallery effect
While a lot of Pixar isn't open to guests, the areas that we were able to access were covered in Toy Story 4 artwork, from concept sketches to murals. It's like visiting a gallery where all the artists are in residence.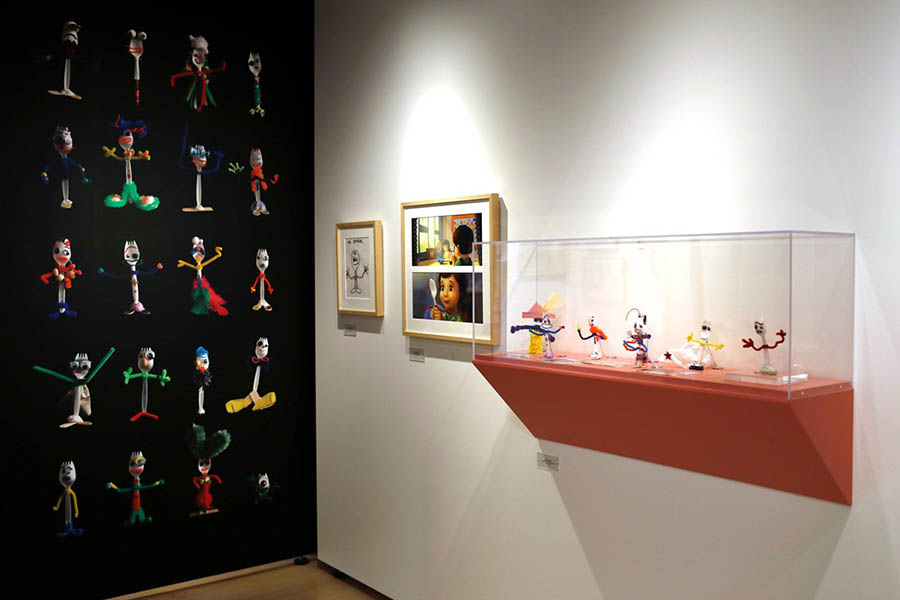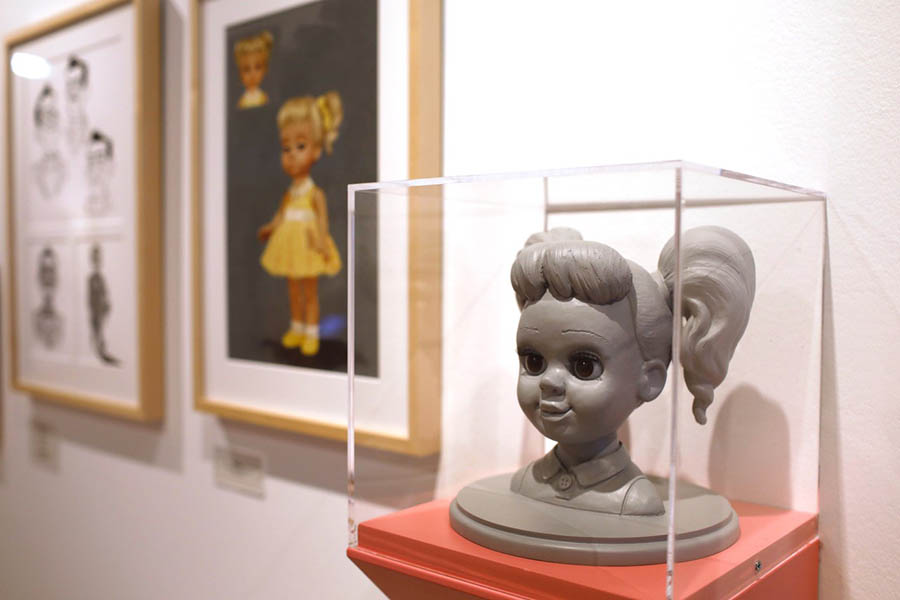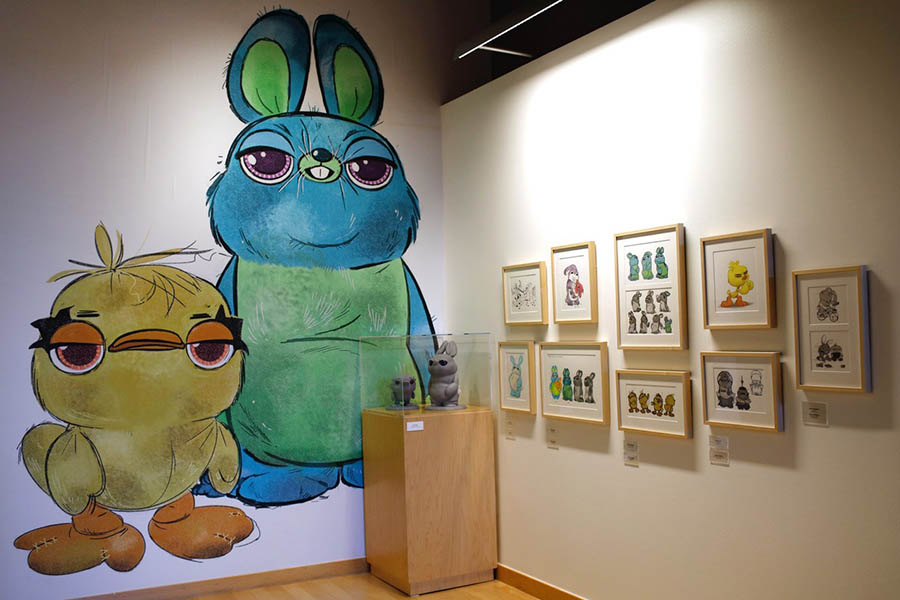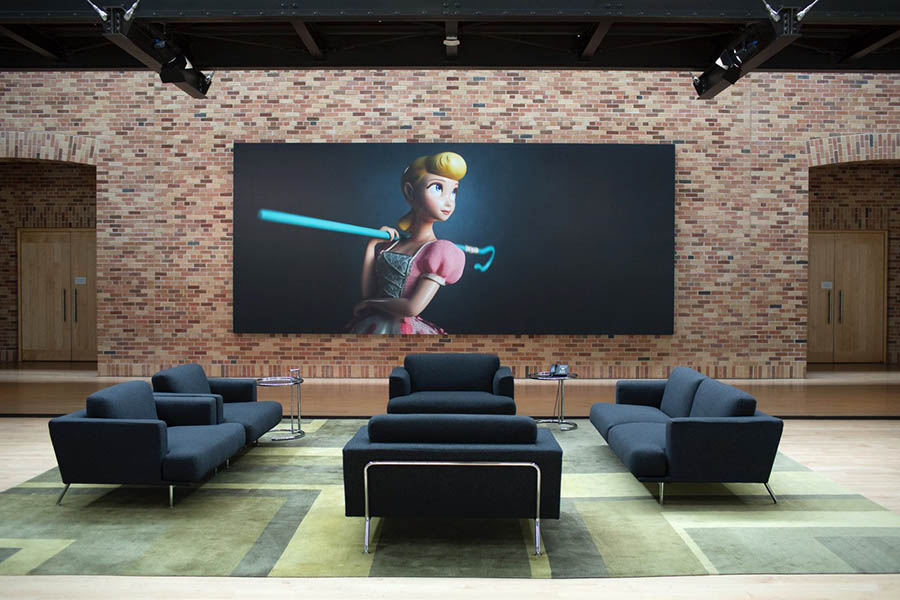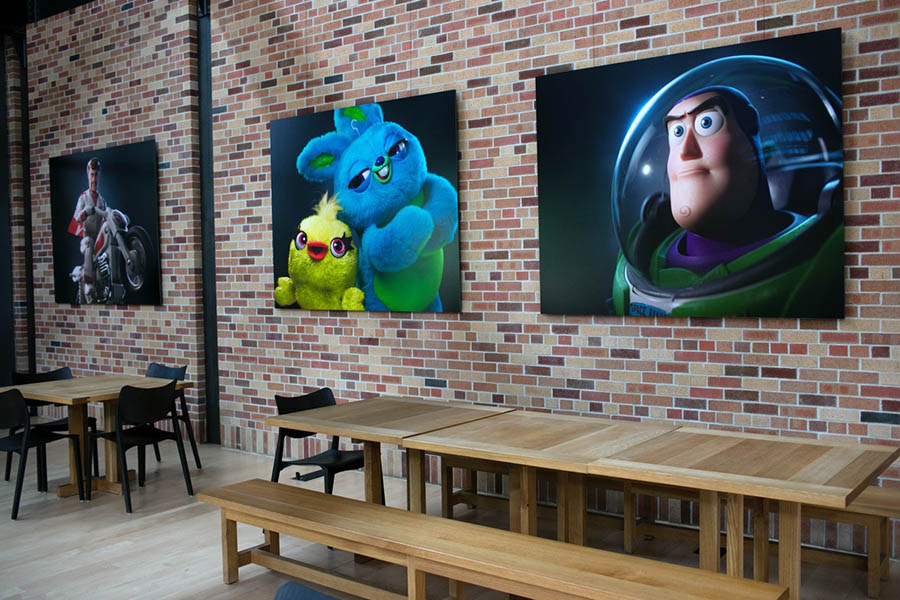 What is animation?
One of the supervising animators, Robert Russ says that "Animation is acting . . . you could say that we are both the actors and stunt doubles in our films."
While the voice actors are recorded first, the animators draw inspiration from them. Russ and his partner Scott Clark worked with a team of roughly 100 animators to make Toy Story 4.
How long did it take? Said Clark, "It takes weeks to create a few seconds on screen."
Where do movies come from?
According to Toy Story 4 Story Supervisor Valerie LaPointe, when a Pixar film is first starting out, it's kept to a pretty small group that usually "includes the director, the writer, the lead story supervisor and the editor in a kind of smaller room, who figure out 'what is this movie and what is story we want to tell?'"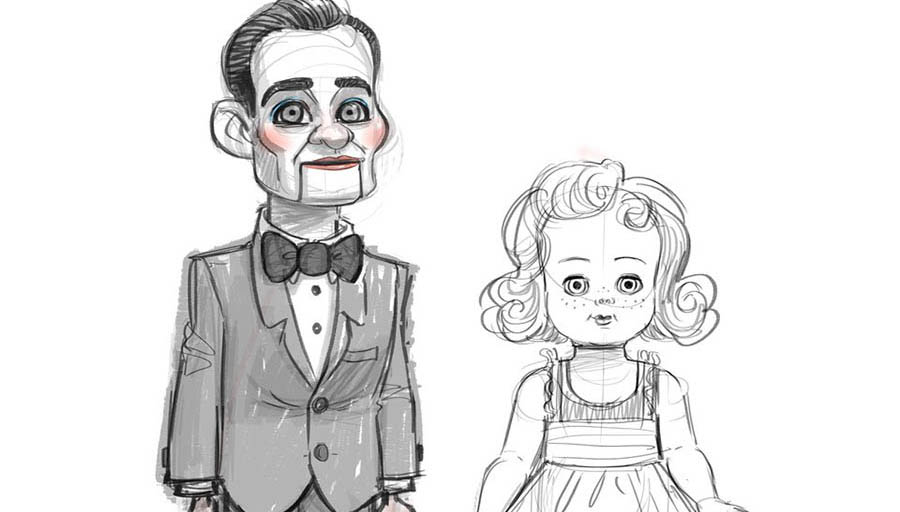 Meet Gabby Gabby and the dummies
Gabby Gabby is a 1957 pull-string talking toy built around the same time as Woody. Supervising Technical Director Robert Moyer, who explains his role as "kind of the general contractor of the film" said that the "challenge was making her a realistic doll without looking too human. We looked for cues that would make her look more doll-like . . . hard plastic, not flesh and muscles."
Gabby enjoys the company of Vincent and the dummies, who, according to Russ, "are mindless henchmen."
There are four dummies. Their jaws only move up and down, their brows are rigid and their bodies are designed to move awkwardly, like someone is supporting them from the inside. "Everything had to feel slightly off," said Moyer, "With the dummies . . . less is more."
What's a Forky?
"Forky had to look like a 6-year-old kid's creation," said Moyer.
The Toy Story 4 team figured out a lot about Forky in workshops where the crew designed their own Forky, and during my visit I got to make one, too. As you can see, I went full homage to Inside Out's hot-tempered curmudgeon Anger.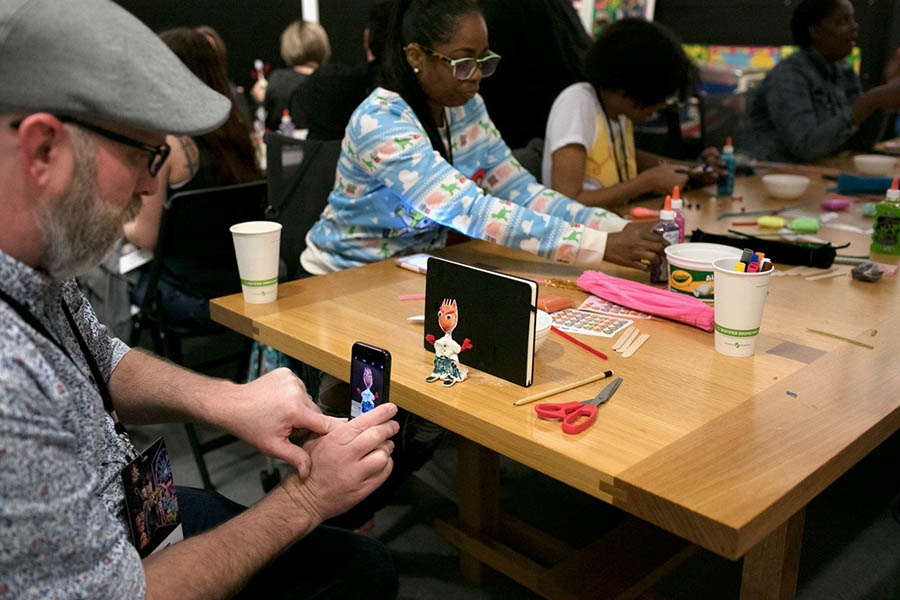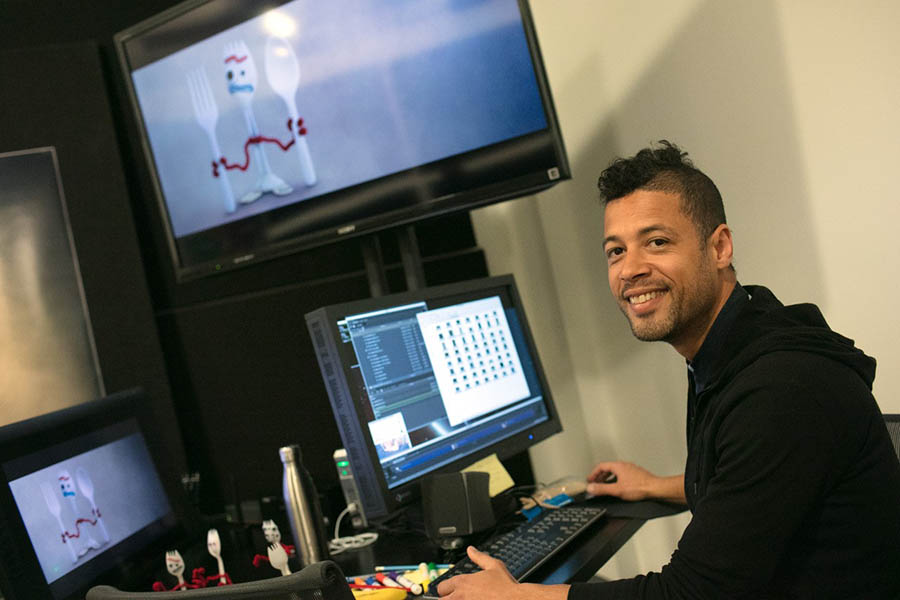 Animator Claudio De Oliveira walked us through the process, sharing some adorable video of making versions of Forky at home with his own family.
Said Moyer, "Forky looks simple, but in fact he's made up of more materials than our other characters: pipe cleaners, glitter glue, googly eyes, popsicle sticks, soft clay, stickers and crayon marks. The eyes had to be believable, able to evolve with his story arc."
Peepin'
Bo Peep plays such a big role in Toy Story 4, that Director Josh Cooley admitted the film was internally called Peep. LaPointe shared more:
"Right from the start, Bo Peep was a centerpiece of why we made Toy Story 4. 'What happened to her?' We hint at it in Toy Story 3, but we don't find out."
What we do know is that Bo Peep was Woody's equal, playing the same role in Molly's room as Woody played in Andy's; however, due to her being a porcelain "baby toy" her time in the house was much shorter.
"What we know of her character is that she starts on a baby lamp, essentially an appliance, a toy on an appliance."
Was she donated? Was she given to other kids?
"In Toy Story 4 we see her become a lost toy . . . from lamp to lost toy."
But don't worry for Bo. Despite previous Toy Story films establishing the idea that being a lost toy is a bad thing, Bo Peep brings a different perspective. And it's awesome.