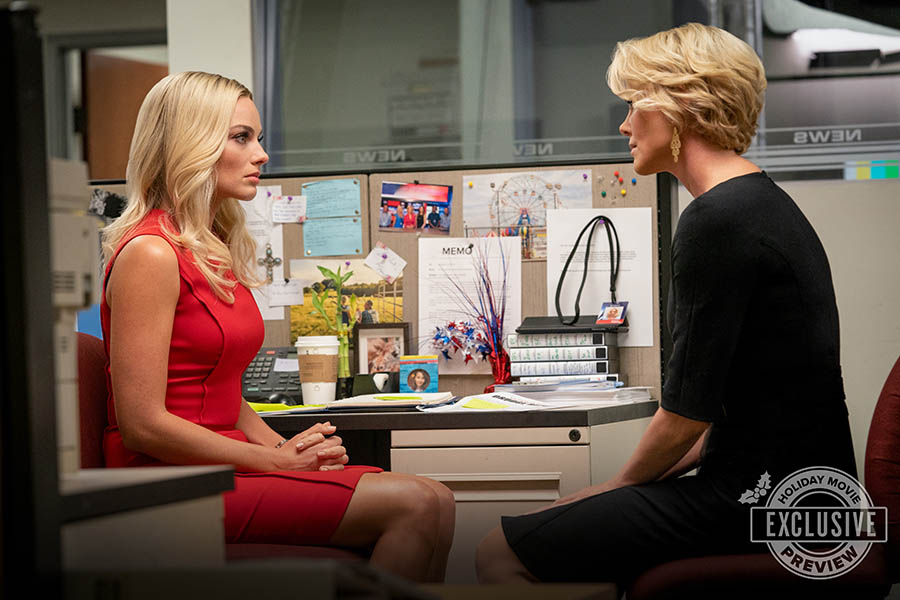 The Screen Actors Guild announced their nominees for the 2020 SAG Awards, and one movie in particular got a boost with their choices. Bombshell has been doing well so far this awards season, but mostly for shoo-ins Charlize Theron and Margot Robbie in lead actress and supporting actress categories, respectively. SAG favored the movie even further with nods for Nicole Kidman for Best Supporting Actress, as well as for the main ensemble of the drama in the Outstanding Cast category, which is the guild's equivalent of Best Picture.
Matching Bombshell's four nominations to tie the lead in the movie section are continued frontrunners The Irishman and Once Upon a Time in Hollywood. They were each recognized for their cast as well as their stunt team. Hollywood also scored a Best Actor nod for Leonardo DiCaprio, while The Irishman's Robert De Niro was surprisingly left out of that category. The Irishman has two nominees for Best Supporting Actor, though: Al Pacino and Joe Pesci. Their competition there includes Hollywood's Brad Pitt.
Netflix did nab slots in the Best Actor and Best Actress categories, however, thanks to Marriage Story and leads Adam Driver and Scarlett Johansson, who also was nominated for her supporting performance in Jojo Rabbit. There, she's up against Marriage Story's Laura Dern. Among other pleasant surprises are Parasite's nomination for Outstanding Cast, a rarity for a foreign-language film, Taron Egerton for Best Actor for Rocketman, Lupita Nyong'o for Best Supporting Actress for Us and Jamie Foxx nominated for Best Supporting Actor for Just Mercy, which hasn't otherwise been present much in the awards conversation.
As for glaring snubs, the Screen Actors Guild completely ignored such fan favorites and, up until now, strong players as Little Women, Uncut Gems, The Two Popes, Dolemite is My Name, 1917, Richard Jewell and Pain and Glory, for which Antonio Banderas has been thought a very likely Oscar winner, let alone contender. De Niro's absence from the Best Actor race is quite interesting, meanwhile, since the Irishman star is being honored with a lifetime achievement award at the SAGs.
Here are this year's SAG Award nominees in the movie categories:
LEADING ACTRESS
Cynthia Erivo — Harriet
Scarlett Johansson — Marriage Story
Lupita Nyong'o — Us
Charlize Theron — Bombshell
Renee Zellweger — Judy
LEADING ACTOR
Christian Bale — Ford v Ferrari
Leonardo DiCaprio — Once Upon a Time in Hollywood
Adam Driver — Marriage Story
Taron Egerton — Rocketman
Joaquin Phoenix — Joker
SUPPORTING ACTRESS
Laura Dern — Marriage Story
Scarlett Johansson — Jojo Rabbit
Nicole Kidman — Bombshell
Jennifer Lopez — Hustlers
Margot Robbie — Bombshell
SUPPORTING ACTOR
Jamie Foxx — Just Mercy
Tom Hanks — It's a Beautiful Day in the Neighborhood
Al Pacino — The Irishman
Joe Pesci — The Irishman
Brad Pitt — Once Upon a Time in Hollywood
OUTSTANDING CAST
Bombshell
Connie Britton
Allison Janney
Nicole Kidman
John Lithgow
Malcolm McDowell
Kate McKinnon
Margot Robbie
Charlize Theron
The Irishman
Bobby Cannavale
Robert De Niro
Stephen Graham
Harvey Keitel
Al Pacino
Anna Paquin
Joe Pesci
Ray Romano
Jojo Rabbit
Alfie Allen
Roman Griffin Davis
Scarlett Johansson
Thomasin McKenzie
Stephen Merchant
Sam Rockwell
Taika Waititi
Rebel Wilson
Once Upon a Time in Hollywood
Austin Butler
Julia Butters
Bruce Dern
Leonardo DiCaprio
Dakota Fanning
Emile Hirsch
Damian Lewis
Mike Moh
Timothy Olyphant
Al Pacino
Luke Perry
Brad Pitt
Margaret Qualley
Margot Robbie
Parasite
Hyae Jin Chang
Yeo Jeong Cho
Woo Shik Choi
Hyeon Jun Jung
Ziso Jung
Jung Eun Lee
Sun Kyun Lee
Myung Hoon Park
So Dam Park
Kang Ho Song
OUTSTANDING STUNT ENSEMBLE
Avengers: Endgame
Ford v Ferrari
The Irishman
Joker
Once Upon a Time in Hollywood