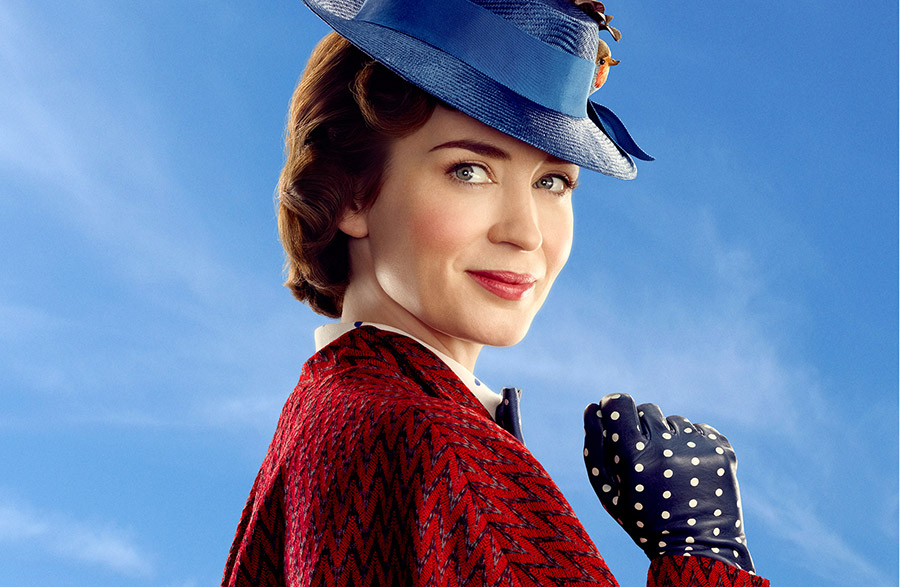 If Mary Poppins ever left the nanny game, she'd be primed for a career in fashion. There's something almost Wintour-ian about her careful posture and stern lines, but Mary Poppins is way more of an influencer than one to be influenced. As the character who first debuted in Mary Poppins will reappear on the big screen in Mary Poppins Returns, out December 19, Academy Award winning costume designer Sandy Powell had to decide how this Mary – whose reemergence is set 25 years after the first film took place – would make nods to the original icon, while offering up some fresh surprises.
Powell, who's designed costumes for Shakespeare in Love, Carol and Cinderella – was something of an expert on Mary Poppins.
"I think Mary Poppins was the first film I remember seeing in the cinema when I was little... I can't remember how many times I saw it but it's one of those things that even now I remember everything about it," she said at a visit to England's Shepperton Studios. "I remember the words to every song, I remember all the costumes." So, as she set about designing for Emily Blunt, who is tackling the role made famous by Julie Andrews, Powell watched the first film one last time and put it to the back of her mind. "The idea wasn't to go and copy anything specifically but I think we needed to maintain the essence of the look of Mary Poppins," she said.
For Powell, the most daunting task was choosing Mary's arrival outfit. "What you notice most about the original look is the silhouette, because that's what we all remember seeing is that little silhouette of her coming down with the umbrella."
Mary's Arrival Outfit
A longer coat with a nipped-in waist calls forth the familiar silhouette, while a cape adds a bit of movement, a must for Director Rob Marshall. Powell chose blue for the coast even though that's stronger than a real governess, because navy would read too dark on camera. Because hat styles didn't change drastically from the first film's to this sequel's time periods, Powell cast this hat at a slightly jaunty angle, and chose red because it was a little less rigid. Audiences will notice there are no flowers on this hat, though. I didn't want to go anywhere near floral looks for Mary Poppins at all," Powell said. Instead, she went a slightly eccentric route with a bird pin, to call to mind the bird from the first film's "Spoonful of Sugar" number. (Powell noted that a 1930s trend was to wear hats adorned with taxidermied birds but thought that wasn't very Poppins-esque.) Finally, the red hat led into the remaining accents being red, right down to a red polka-dot scarf, which lends an "air of frivolity," Powell noted, adding that polka dots were incredibly popular in the 1930s.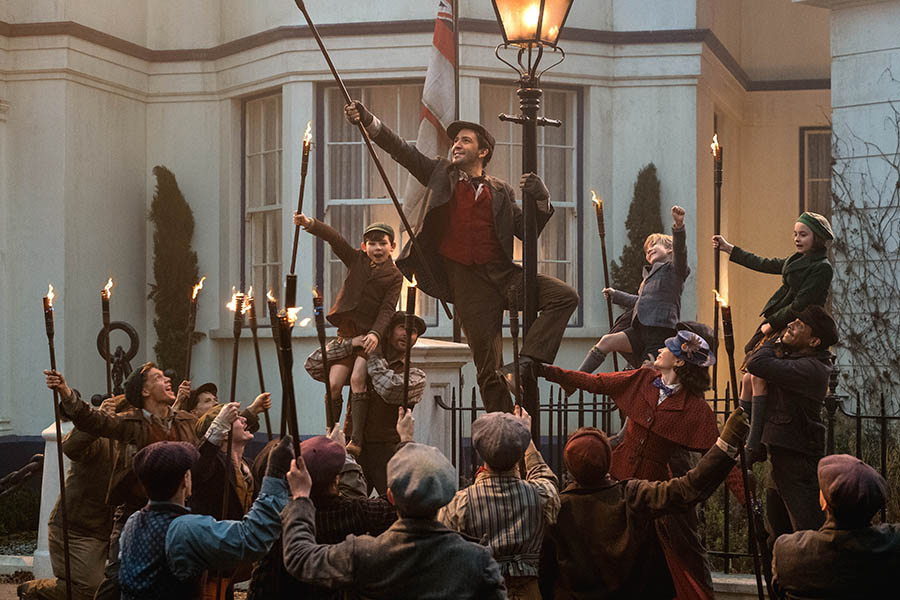 The Leeries' Workaday Look
Though there's only one Mary Poppins, Powell had a lot to design for leerie Jack (Lin Manuel-Miranda) and company. There are more than 70 leeries, and among them are dancers, cyclists, specialist cyclists and stuntmen. "We must have made about 80 or 90 costumes for all the leeries," Powell said, noting that the costumes had to come together during rehearsals to find clothes that could work for dance numbers. "[Their costumes] had to be completely believable as characters -- as working men -- but then also have to work as dance costumes without being made out of Lycra or look like dance costumes." Director Rob Marshall "didn't want a chorus line." In the first film, "the chimney sweeps were great but in the dance piece they all look the same." For the leeries, "the idea was to give them all the same feel, the same look but create individuals within them, amongst them," Powell said. The costumes are each injected with little bits of color. "En masse and at night they do look quite dark and the silhouettes are gray but when you see them closer or in daylight you see little bits of color." In the 1930s, working men didn't wear overalls or coveralls but instead would have worn their old clothes, so the pieces Powell's team created were painted or treated so that they would look worn-in.
Jane's Feminist Style
Jane Banks (Emily Mortimer) is the daughter of a suffragette, so Powell decided to make her an independent modern woman. "Hence the trousers," Powell said. "I wanted her to look down to earth and practical yet stylish. My references for her were Katherine Hepburn, Garbo and Dietrich, all in pants which fit the period."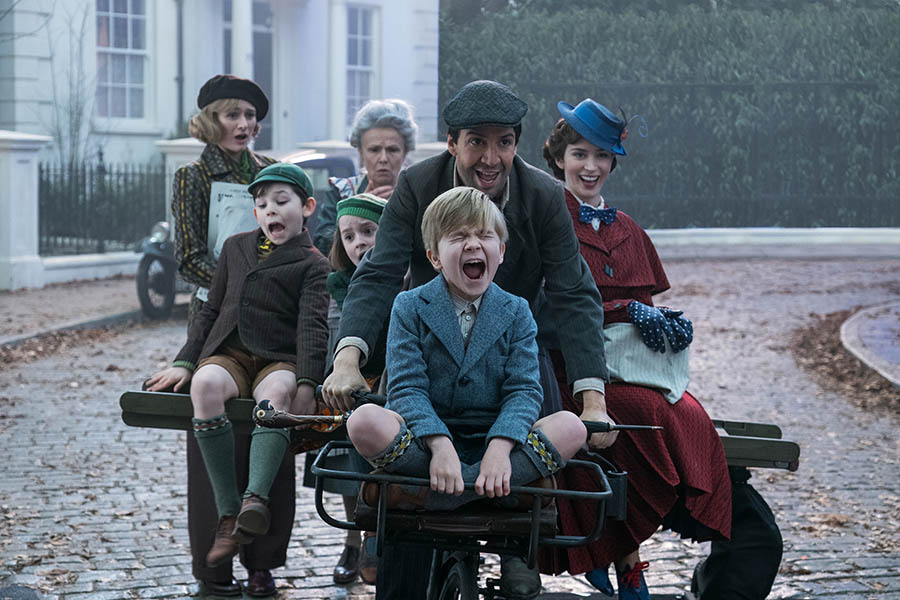 Kids Clothes Aplenty
Because child actors can only work a certain number of hours a day, they have to have photo doubles, picture doubles, acting doubles and stunt doubles. Also, Powell said, "things happen to the kids, like getting muddy, so each of the kids have four, five, or six of their own costume and their doubles have to have the same."
When crafting the children's wardrobes, Powell and her team have to make sure that "whatever fabric or material we use, we have to make sure there's enough for the multiples," she said. Invariably, you find the perfect fabric and fall in love with it and there's not enough."
Topsy's Bohemian Flair
It's clear Powell had a great deal of fun dressing Meryl Streep's Topsy. Topsy is an eccentric, Powell said. "I looked at reference of colorful, eccentric bohemians from the 1920s and 1930s and started really with the massive rings and the turban," Powell said. Later, she studied photos of shipping heiress Nancy Cunard, who wore huge bangles up her arm, and layered some of that onto the costume. But some of Topsy's look is very modern – like "Iris Apfel and all those crazy New York ladies." The extravagant accessories and over-the-top details of Topsy are influenced by such women. "Once you get to a certain age you can sort of do whatever you like, and it doesn't matter because no one is going to care," Powell said. Two practical considerations for Topsy were to put her in a harem pant (because the musical number takes place in Topsy's upside-down home, and a skirt would not work for such a thing) and to craft her large jewelry from rubber, so it wouldn't clatter over the song and dance numbers.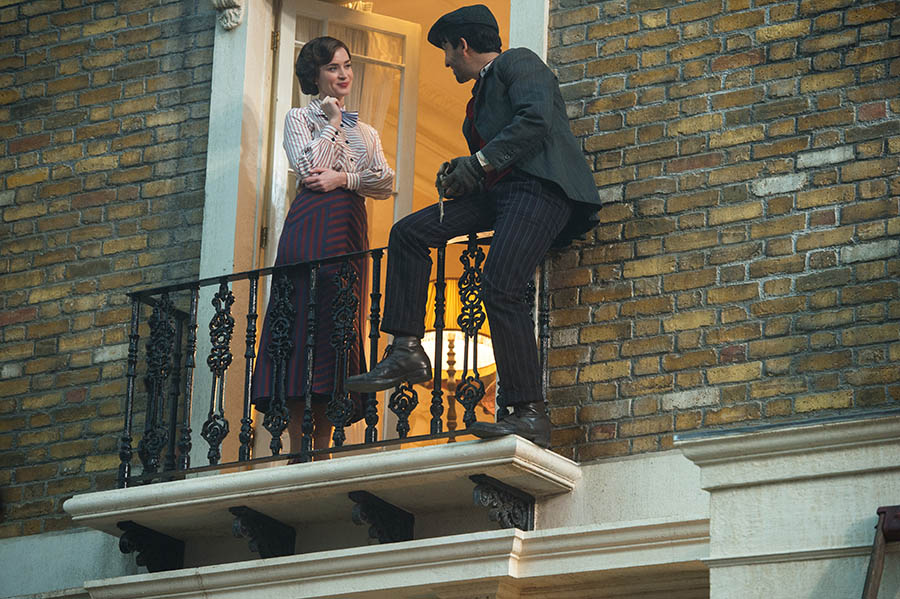 Why No Vintage Store Shopping?
While you might think that a period film would require costumes sourced from the actual era but because so many duplicates are required, that's impossible, said Powell. Initial fittings with actors might include real period clothing but only to see what works. After that, Powell's team rents or creates everything else. For Mary Poppins Returns, 498 costumes were made by the team and another 500 rented (mostly for background actors). In addition, there are 400 pairs of shoes, including dance versions. And though Mary Poppins only appears to be wearing two pairs of shoes in the film, Emily Blunt's wardrobe includes 29 pairs of shoes (including dance versions and some with different heel heights.)