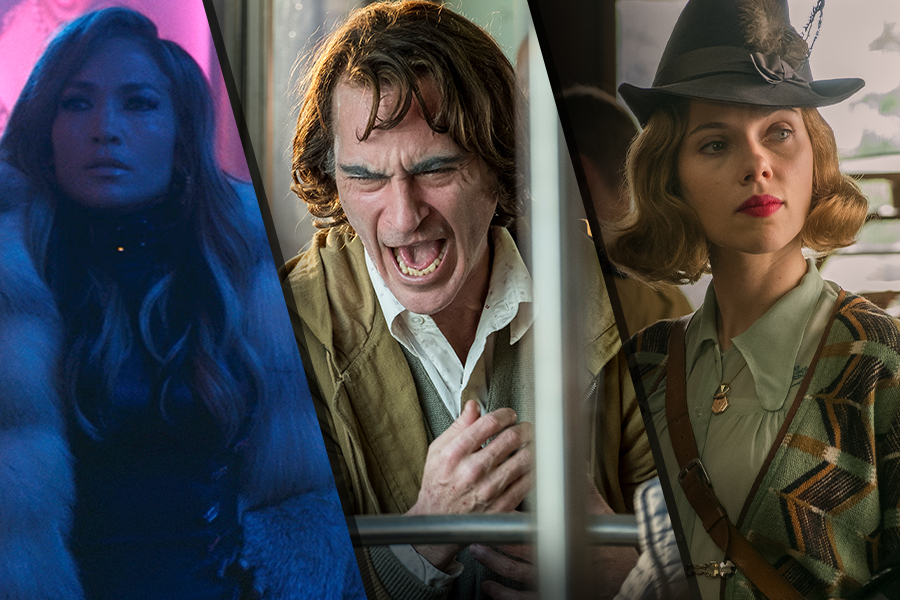 The fall movie season brings a host of new films to theaters with more variety in your moviegoing options than any other time of year. From big blockbusters to freaky horror movies to a flood of potential Oscar contenders, there's so much to choose from – and much of what's to come will first play in front of film festival audiences around the world.
From Venice to Telluride to Toronto to New York, the fall season is also known as film festival season, and the Toronto International Film Festival might be the most critical festival in terms of awards season. Many of this year's Best Picture contenders will likely host screenings in Toronto over the next couple of weeks, and while we won't know which films those will be until later on down the line, you bet we'll be there in the audience for all of the biggest, most buzzed-about premieres.
So which films will make the most noise in Toronto this year? Here are 10 titles sure to be in the conversation, including five potential Oscar frontrunners…
Hustlers (in theaters September 13 – get tickets now)
Why we're excited: Easily set to be one of this fall's most entertaining films, Hustlers features an ensemble worth talking about. Jennifer Lopez, Constance Wu and Keke Palmer are joined by hip-hop stars Cardi B and Lizzo in this drama based on a real-life story. Part Magic Mike, part Wolf of Wall Street, Hustlers follows a group of exotic dancers who hatch a plan to swindle Wall Street types out of thousands of dollars after their industry takes a major hit following the 2008 financial collapse.
Watch the trailer:
Joker (in theaters October 4 – get tickets or sign up for a FanAlert)
Why we're excited: Joaquin Phoenix, one of the greatest actors of our generation, is playing DC's most iconic villain in an R-rated film that promises to be unlike any other comic book origin story we've seen. That right there is enough reason to be excited, but its grimy and gritty look – coupled with a high Rotten Tomatoes score (currently 85% Fresh as of this writing) – is no joking matter. This will be one of the fall's biggest films, and if wildly successful then it could lead to a potential Oscar nomination for Phoenix, as well as more of his Joker in future DC movies.
Watch the trailer:
JoJo Rabbit (in theaters October 18 – get tickets or sign up for a FanAlert)
Why we're excited: Taika Waititi has emerged as one of the most fascinating voices in the film and TV space, delivering a unique brand of heart and humor that stretches from big superhero movies like Thor: Ragnarok to smaller coming-of-age stories like Hunt for the Wilderpeople. Now he's back both in front of and behind the camera for a startlingly original story about a boy and his imaginary best friend, Adolf Hitler (Waititi). Set during World War II, the film tracks a boy whose loyalty to Hitler's regime is tested when he discovers his mother is hiding a Jewish girl in their attic.
Watch the trailer:
Ford v Ferrari (in theaters November 15 – get tickets or sign up for a FanAlert)
Why we're excited: If visceral car racing scenes aren't enough to get you revved up, then how about a cast lead by Christian Bale and Matt Damon? Directed by James Mangold (Logan), the film is based on the real-life story of the 1966 Le Mans, a 24-hour car race in which car manufacturer Ford went to great lengths to design a car that could beat the overwhelming favorite, Ferrari. We're expecting this one to play loud and fast.
Watch the trailer:
Knives Out (in theaters November 27 – get tickets or sign up for a FanAlert)
Why we're excited: Featuring what is arguably fall's most anticipated ensemble cast (Jamie Lee Curtis, Chris Evans, Daniel Craig, Michael Shannon, Toni Collette, LaKeith Stanfield, Don Johnson and Christopher Plummer), Knives Out is writer-director Rian Johnson's (Looper, Star Wars: The Last Jedi) latest, and it looks to be a doozy. With a vibe reminiscent of Clue and inspired by Agatha Christie stories, Knives Out follows a detective investigating an overly eccentric family following the murder of one of their own.
Watch the trailer:
Awards season officially kicked off with Labor Day weekend's one-two punch of the Venice Film Festival and the Telluride Film Festival, but where those films get massaged into the overall awards narrative is the Toronto International Film Festival. Why? Because the Toronto festival has the highest quantity of press and public in attendance, and after hearing all the buzz, this is the festival that takes the temperature of whether or not it'll be able to run the gauntlet. Last year, this is where Green Book debuted and won the coveted Audience Award, the only other place where Green Book beat Roma was at the 91st Oscar ceremony. And while most post-TIFF write-ups will focus on the Best Picture field and the acting category jockeying, there are many awards to be handed out. Of the top ten films to look out for, below are five films that could potentially land in some prominent categories but need that TIFF boost.
Parasite (in theaters October 11; sign up for a Fan Alert to be notified for when tickets are on sale)
Why we're excited: TIFF has its fair share of buzzy films with major stars that have already debuted at major festivals—Joker (Joaquin Phoenix) and Marriage Story (Scarlett Johansson and Adam Driver) going the Venice route, Ford v. Ferrari (Christian Bale and Matt Damon) and Uncut Gems (Adam Sandler) going to Telluride—but ever since it won the Palme d'Or at the Cannes Film Festival, it's Bong Joon-ho's Parasite that has been receiving the most buzz and acclaim. While it's a shoo-in to be South Korea's first(?!) Oscar nominee for Best Foreign Language Film, the hype is strong enough that TIFF will be where we see if this film will pull a Roma and be nominated across the board from Best Picture on down. The filmmaker behind The Host and Okja has cooked up a social thriller that by all accounts is best viewed knowing as little as possible going in and just piecing together the dark thrills as they're served up.
Watch the trailer:
The Lighthouse (in theaters October 18; sign up for a Fan Alert to be notified for when tickets are on sale)
Why we're excited: Similar to Parasite, The Lighthouse wowed at Cannes but unlike Parasite, it hasn't played a festival since. So TIFF is the place to gauge the film's broader genre appeal. Although it comes from the director of The Witch, Robert Eggers, The Lighthouse doesn't fit within horror, though it seems stars Robert Pattinson and Willem Dafoe do certainly torment each other. The Lighthouse is an exciting old-fashioned two-person unraveling play, shot in stark black-and-white 35mm, set in the late 1900s, and featuring soul crushing sound design and two of the best character actors around (though Dafoe's credit list is a scroll of out-there classics, Pattinson has done the indie circuit proud with recent films like Good Time, The Lost City of Z, and High Life), The Lighthouse hasn't had the light shown upon it for months and we're excited to be there for the second coming.
Watch the trailer:
Waves (in theaters November 1)
Why we're excited: Filmmaker Trey Edward Schultz has proven a master of mood with his two previous A24 releases, the anxiety attack provoking-Krisha and the gothic mystery It Comes at Night. His latest boasts a strong ensemble cast of Sterling K. Brown (The Predator, NBC's This Is Us), Lucas Hedges (Manchester by the Sea, Lady Bird), and Kelvin Harrison, Jr. (Luce) and finds the director moving away from foreboding doom toward a different type of minefield: young love. Backed again by A24 as a distributor, Waves received a boost from rave reviews coming out of its Telluride debut.
The Two Popes (in theaters November 27)
Why we're excited: With nary any buzz prior to its festival debut, Fernando Meirelles' (City of God) light-hearted dramatization of the Vatican handoff from traditionalist Pope Benedict (Anthony Hopkins) to reformist Pope Francis (Jonathan Pryce) emerged from Telluride as the crowd-pleasing audience favorite. The high accolades went to Pryce, who's already launched far into a crowded pack of Best Actor hopefuls. Although The Irishman and Marriage Story are getting the most critical love of Netflix's theatrical festival releases, it might be Two Popes that is the biggest conversation starter, in select theaters in time for Thanksgiving.
Watch the trailer:
The Whistlers (in theaters February 20)
Why we're excited: While the aforementioned Parasite is the most talked about potential Oscar winner for Best Foreign Language Film right now, Romania has already submitted Corneliu Porumboiu's film as their representative for the same prize. What's exciting about The Whistlers is that it sees the witty and verbose Porumboiu (whose films have been like a dictionary coming to life, and I mean that as a huge compliment) trying his hand at the prison escape genre in the most Porumboiu way possible: by having a police officer learn an ancestral whistling language as coded language to get mobsters out of prison and on the trail of 30 millions Euros. The Whistlers, which debuted at Cannes, has been earning high marks for retaining the intelligent streak of the Romanian New Wave but upping the dark humor and body count.