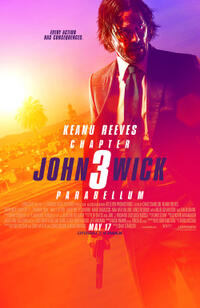 Released
May 17, 2019
R, 2 hr 11 min
Action/Adventure
Suspense/Thriller
Own 'John Wick' and 'John Wick: Chapter Two' for $3.99 each!
LIMITED TIME. SUBJECT TO AVAILABILITY. TERMS APPLY.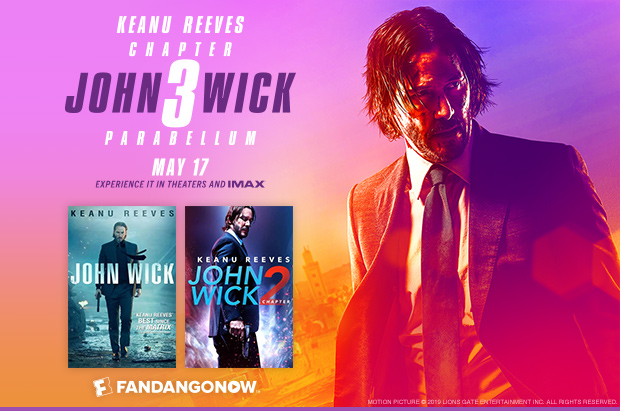 Offer is valid from 9:00 a.m. PT on 4/18/2019 through 4:00 p.m. PT on 5/26/2019, subject to availability. Purchase must be made with a Fandango VIP account. Fandango VIP is free to join. Offer valid in the U.S. only to residents 18 years of age or older. Each 'John Wick: Chapter 3 - Parabellum' VIP ticket purchaser on Fandango.com or via the Fandango App, will receive a post-purchase email including one (1) promotional code ("Code") which will enable purchaser to purchase either or both 'John Wick' or 'John Wick: Chapter Two' in SD or HD formats ("Eligible Movies") on FandangoNOW.com or via the FandangoNOW apps for $3.99 each. Code can be used once for each of the Eligible Movies. Limit one Code per customer. One Code per Fandango ticket purchase transaction, regardless of number of tickets purchased in a single transaction. Code expires on 6/26/2019. No adjustments on prior purchases. Offer cannot be combined with any other offer or discount. Void where prohibited. This is a promotional code and is not to be shared, is not for resale, has no cash value, and will not be replaced if lost or stolen. This offer is non-transferable. This offer is subject to Fandango's Terms and Policies and Privacy Policy at http://www.fandango.com/terms-and-policies. Motion Picture © 2019 Lions Gate Entertainment Inc. All Rights Reserved.
ENTER CITY, STATE OR ZIP CODE
GO
Fandango Fanalert™
Sign up for a FanAlert and be the first to know when tickets and other exclusives are available in your area.
Privacy Policy
Cast
John Wick
Winston
Sofia
Bowery King
Zero
The Adjudicator
Charon
Earl
The Director
The Elder
Berrada
Doctor
Operator
Administrator
Librarian
Ballerina
Tick Tock Man
Ticket Taker
Ruska Roma
Shinobi #1
Shinobi #2
Ballet Choreographer
Dress Rehearsal Ballerinas
Dress Rehearsal Ballerinas
Dress Rehearsal Ballerinas
Dress Rehearsal Ballerinas
Dress Rehearsal Ballerinas
Dress Rehearsal Ballerinas
Ernest
Ballet Instructor #1
Ballet Instructor #2
Ballet Instructor #3
NY Taxi Driver, Unit Production Manager, Executive Producer
Yassin
Zahir
Ruska Roma Guard
Crew
Director, Executive Producer
Animator
Sound/Sound Designer
Animator
Executive Producer
Re-Recording Mixer
CG Supervisor
Costumes Supervisor
Producer
Makeup
Director, Executive Producer
Screenwriter
Supervising Art Director
Visual Effects Supervisor
Second Assistant Director
Animator
Cinematographer
Unit Production Manager
Production Sound Mixer
Executive Producer
Set Designer
Set Decorator
Animator
Character(s) created by, Screen Story, Screenwriter
Character(s) created by, Screen Story, Screenwriter
Character(s) created by, Screen Story, Screenwriter
Special Effects Coordinator
Visual Effects
Producer
Editor
Visual Effects Supervisor
Line Producer
Hair Styles
Supervising Art Director
Visual Effects
Visual Effects
Second Assistant Director
CG Supervisor
NY Taxi Driver, Unit Production Manager, Executive Producer
NY Taxi Driver, Unit Production Manager, Executive Producer
Department Head Hair
Associate Producer, Production Supervisor
Associate Producer, Production Supervisor
Stunts Coordinator
Second Assistant Director
Animator
Executive Producer
Composer (Music Score)
Co-producer, First Assistant Director
Co-producer, First Assistant Director
Choreography, Fights Choreographer
Choreography, Fights Choreographer
Production Supervisor
Production Sound Mixer
Unit Production Manager
Special Effects
Line Producer
Production Sound Mixer
Costumes Supervisor
Visual Effects Supervisor
Department Head Hair, Hair Designer
Department Head Hair, Hair Designer
Associate Producer
Musical Direction/Supervision
Production Designer
Visual Effects
Set Decorator
Costume Designer
Sound/Sound Designer
Cinematographer
Screenwriter
Casting
Supervising Sound Editor
Re-Recording Mixer, Sound/Sound Designer
Re-Recording Mixer, Sound/Sound Designer
First Assistant Director
Casting
Post Production Coordinator
Animator
Animator
Visual Effects
Post Production Supervisor
Department Head Makeup
Special Effects Coordinator
First Assistant Director
Art Director
Production Coordinator
Supervising Animator
CG Supervisor
Supervising Animator
Animator
Special Effects Supervisor
Visual Effects Supervisor
Visual Effects Supervisor
Casting
Unit Production Manager
Set Designer
Production Sound Mixer
Screenwriter
Visual Effects Supervisor
Visual Effects
Visual Effects
Special Effects Supervisor
Casting
Department Head Makeup, Makeup Designer
Department Head Makeup, Makeup Designer
Second Assistant Director
Special Effects Supervisor
Production Coordinator
Production Coordinator
Art Director
Set Designer
Animator
Composer (Music Score)
Animator
Set Designer
Second Assistant Director
CG Supervisor
Costumes Supervisor
Provided by Rovi