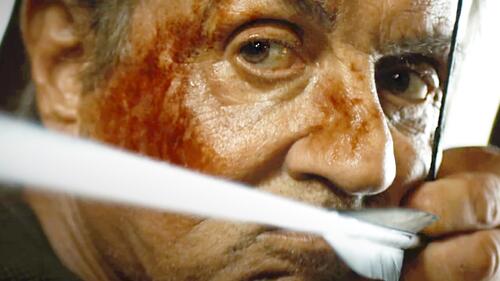 Rambo: Last Blood
Rambo: Last Blood
1 of 5
Weekend Ticket: Ad Astra, Rambo: Last Blood, Downton Abbey

Brad Pitt searches the stars to uncover his father's mysterious, interstellar past. Sylvester Stallone's John Rambo stops at nothing to save his new family from the cartel. The Queen makes a visit to Lord & Lady Grantham's estate. Will you see 'Ad Astr

Rambo: Last Blood: Exclusive Interview

Sylvester Stallone, Yvette Monreal, and Adriana Barraza talk about creating a family that John Rambo would go to war for, Yvette shares what it's like filming your very first scene with the legendary star of 'Rocky' and 'First Blood', and Stallone reveals

Rambo: Last Blood: Know Before You Go

Need a refresher on the saga of John Rambo? Check out this quick, fact-filled catchup that will get you up to speed before you go see 'Rambo: Last Blood' in theaters September 20!