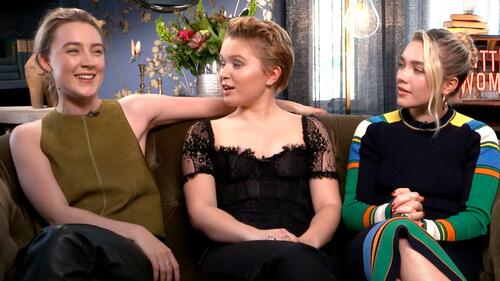 Little Women
Saoirse Ronan, Timothee Chalamet, Florence Pugh, Eliza Scanlen, Laura Dern, and director Greta Gerwig share stories from on set, what it was like working with the legendary Meryl Streep, and what goes on in their in their group texts, in this interview fo
1 of 6
Weekend Ticket: Little Women, 1917, Spies in Disguise

Five highly-anticipated movies are hitting theaters Christmas Day, so you are sure to find a flick for the whole family to enjoy! Will you see 'Little Women', '1917', 'Spies in Disguise', 'Uncut Gems', or 'Just Mercy' in theaters this weekend?

Little Women: Exclusive Interview

Saoirse Ronan, Timothee Chalamet, Florence Pugh, Eliza Scanlen, Laura Dern, and director Greta Gerwig share stories from on set, what it was like working with the legendary Meryl Streep, and what goes on in their in their group texts, in this interview fo

Weekend Ticket: 2019 Holiday Preview

'Tis the season for theaters full of hit movies that are sure to bring us good cheer, like 'Star Wars: Episode IX', 'Cats', 'Jumanji: The Next Level', and many more! What will you see? This is your 2019 Weekend Ticket Holiday Preview!