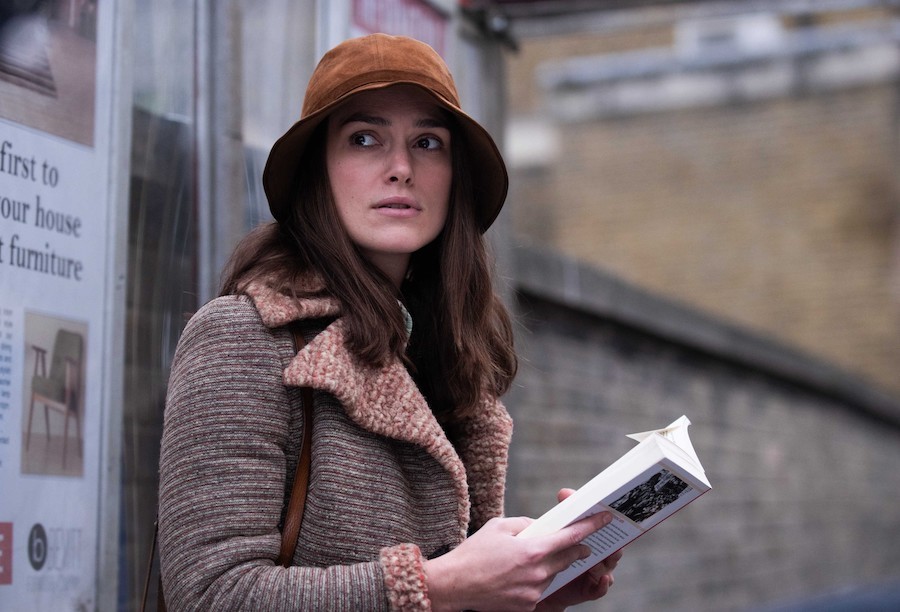 Want to know what's coming soon to digital and what to watch right now on FandangoNOW? Here is your weekly guide to the latest releases:
What are the latest new releases to watch right now?
J.P. Valkeapää's intense and darkly comedic festival favorite Dogs Don't Wear Pants is now available digitally, for rental or purchase. The award-winning Finnish film, which was named Best Picture at Austin's Fantastic Fest in 2019, follows a widower whose life turns around when he meets a dominatrix and then the two of them form a special yet unconventional bond.
For something a little more mainstream, another film festival award-winner arrived on digital last Friday. From Notting Hill director Roger Michell, the drama Blackbird features an ensemble cast centered around Susan Sarandon as a dying matriarch and including Kate Winslet, Sam Neill, Rainn Wilson and Mia Wasikowska as family members brought together to say goodbye.
He is mostly remembered as one of the victims of the Manson Family murders, but Jay Sebring deserves to be known for what he achieved in life, including his hairstyling business, his discovery of Bruce Lee and more. The documentary Jay Sebring…Cutting to the Truth, now available to rent or buy, offers the full biographical treatment to the artist and businessman.
Another Hollywood-centric documentary worth checking out is Stuntwomen: The Untold Hollywood Story. Featuring and narrated by Fast & Furious star Michelle Rodriguez, the film looks back on more than a century's worth of women stunt performers for movies and television, including interviews with such unsung heroes as Zoë Bell, Amy Johnston, Jessie Graff, and many more.
What movies are great to pair with those new releases?
If you like Dogs Don't Wear Pants, especially actor Pekka Strang, you must also check out Tom of Finland, in which he portrays the titular artist, a.k.a. Touko Valio Laaksonen. With Blackbird, there's Stepmom, in which Sarandon plays another terminally ill mother, and for something a bit lighter, The Farewell also involves a family reunion inspired by a matriarch's terminal prognosis.
The best thing to pair with Sebring is Quentin Tarantino's Once Upon a Time…In Hollywood, in which Jay Sebring is portrayed by Emile Hirsch. That movie also connects well to Stuntwomen since it co-stars Zoë Bell. But I recommend watching, with greater appreciation, some of the movies with stunt-focused clips featured in the documentary, such as True Lies and The Matrix Reloaded.
Are there any other big movies coming out this week?
Keira Knightley, Gugu Mbatha-Raw and Jessie Buckley star in Misbehaviour (pictured above), which releases this Friday, September 25. Based on a true story, the feminism-focused film follows events around the 1970 Miss World pageant in London when the Women's Liberation Movement disrupted the Bob Hope-hosted broadcast and Miss Grenada was crowned the first winner of color.
Also out this Friday, Ava stars Jessica Chastain as the titular deadly assassin, whose latest mission goes wrong. Helmed by Tate Taylor, who directed Chastain to her first Oscar nomination in The Help, the action-thriller co-stars John Malkovich, Colin Farrell, Geena Davis and Common. And Chastain's stunt double is Amy Johnston, who is featured in the Stuntwomen documentary!
What are some great fall movies to rent now?
I recently highlighted movies centered around autumn-associated subjects like back to school and football, and we're not ready for Halloween treats, so are there any other classics more generally set during the fall season? Well, the aforementioned Stepmom counts, as do the two Meg Ryan rom-com favorites When Harry Met Sally… and You've Got Mail.
Other great movies taking place in the autumn include such New England-set classics as Todd Haynes' Douglas Sirk homage Far From Heaven and Alfred Hitchcock's The Trouble with Harry. You can also just watch one section each of these two picks that play out over the course of a year: Kim Ki-duk's Spring, Summer, Fall, Winter…And Spring and Mike Leigh's Another Year.
Can you recommend some great binge bundles to rent?
Keeping with the Stuntwomen love, I recommend a couple of binge bundles involving women in action, supported by female stunt performers. Charlie's Angels and its sequel Charlie's Angels: Full Throttle can be rented together. And the Underworld Legacy Collection four-pack features Underworld, Underworld Evolution, Underworld: Rise of the Lycans and Underworld Awakening.
Are we celebrating any big anniversaries this week?
This week sees the 25th anniversary of Se7en, Empire Records, Showgirls, the Matthew McConaughey and Renee Zellweger-led horror sequel Texas Chainsaw Massacre: The Next Generation, Pedro Almodóvar's The Flower of My Secret, and the anime Ghost in the Shell making their theatrical debuts. Also, Miller's Crossing and Ken Burns' docuseries The Civil War both turn 30.
Going back further, Disney's The Journey of Natty Gann turns 35, the cult classic The Rocky Horror Picture Show and the crime film Dog Day Afternoon both turn 45 and the World War II epic Tora! Tora! Tora!, which depicts the bombing of Pearl Harbor, turns 50. As for more recent releases with anniversaries, David Cronenberg's comic adaptation A History of Violence turns 15.
Which must-see movies are coming soon to FandangoNOW?
Next month brings horror to digital with Darren Lynn Bousman's Death of Me, which stars Maggie Q and Luke Hemsworth, and is out on October 2. One week later, on October 9, the underdog horse racing drama Dream Horse arrives digitally. The movie is based on a true story (and the hit 2015 documentary Dark Horse) and stars Toni Collette and Damian Lewis.
What are the 10 most popular new movies on FandangoNOW?

1. Antebellum
2. Bill & Ted Face the Music
3. The Secret: Dare to Dream
4. Alone
5. The Tax Collector
6. The King of Staten Island
7. Fatima
8. Blackbird
9. Trolls World Tour
10. The Grizzlies