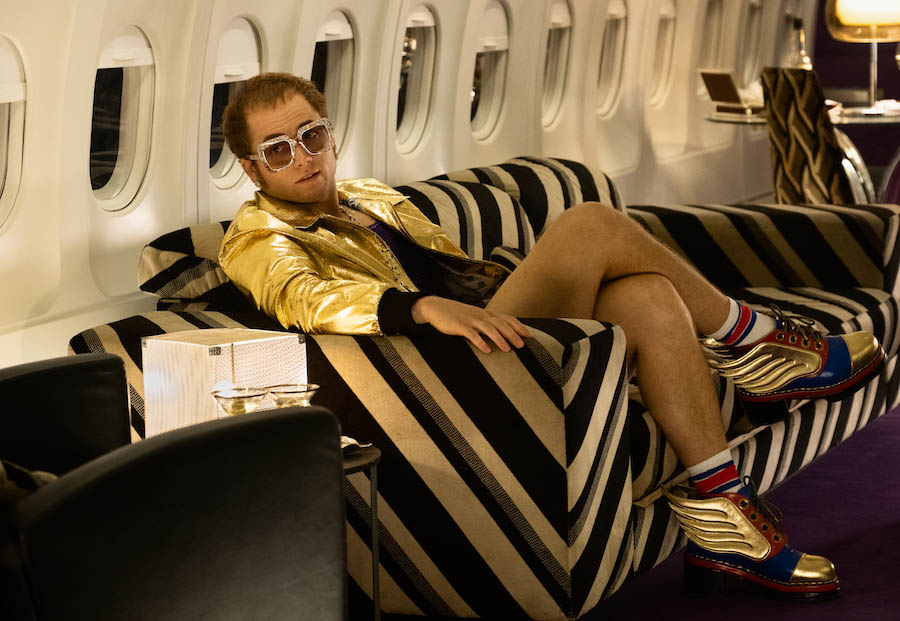 Taron Egerton has worked with Sir Elton John in the Kingsman movies and now he'll play the music icon in a biopic. Rocketman will be a fantastical take on the life of the singer known for such tunes as "Your Song," "Goodbye Yellow Brick Road," the Lion King hit "Can You Feel the Love Tonight" and the biopic's title number, "Rocketman."
This week, we got our first look at Egerton in the role (above), sporting Elton John's stylish fashion, complete with his signature rectangle specs and Mr. Freedom winged shoes, circa 1970. Following the image, Paramount released a teaser trailer for Rocketman featuring Egerton in many more famous Elton John getups. Watch it down below after reading more about the movie.
Here's everything we know about Rocketman so far:
Is Rocketman a conventional biopic about Elton John?
The tagline for the movie says it's "based on true fantasy," and the pitch continues to be that this will be a more creative take on the singer-songwriter's life than your standard biopic fare. Here is the official synopsis from Paramount: "Rocketman is an epic musical fantasy about the uncensored human story of Sir Elton John's breakthrough years."
What makes Taron Egerton the perfect person to play Elton John?
Despite not being the first choice for the movie (Justin Timberlake and Tom Hardy were both previously picked for the part), Kingsman star Taron Egerton is a great choice to embody Elton John. He looks right for the part, proven now by the first images and footage that's been released.
We also know Egerton can sing Elton John's songs very well thanks to his performance of "I'm Still Standing" for the soundtrack of the animated feature Sing, in which he voiced the role of a musically talented gorilla. He also has first-hand familiarity with the person he's playing via Elton John's role in the Kingsman movies as himself.
Who else is in Rocketman?
Jamie Bell is co-starring as Elton John's longtime songwriting partner Bernie Taupin, while Bryce Dallas Howard will appear as Elton John's mum, Sheila Eileen. Richard Madden (Cinderella) portrays Elton John's manager and lover John Reid. The cast also includes Gemma Jones (Harry Potter) and Steven Mackenzie (Underworld: Evolution).
Who directed the movie?
Dexter Fletcher, who directed Egerton in the sports biopic Eddie the Eagle, is at the helm of this musical biopic.
Who wrote the screenplay?
Lee Hall, who wrote the Oscar-nominated script for Billy Elliot, which starred a young Jamie Bell, and collaborated with Elton John on the musical adaptation of that movie, penned the Rocketman screenplay.
When does it come out?
Paramount will release Rocketman in the U.S. on May 17, 2019.
Can we see a trailer?
Here's the first teaser for Rocketman, featuring Egerton looking and sounding just like Sir Elton John: