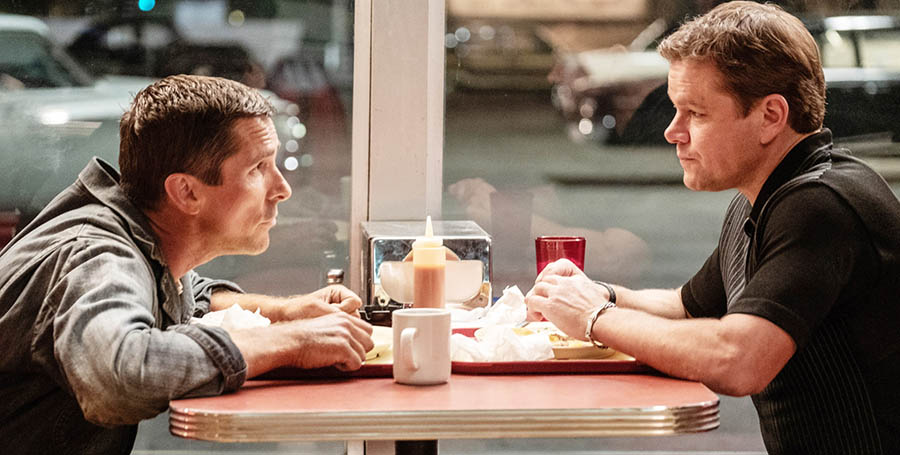 Legendary automobile designer Carroll Shelby (Matt Damon) teams up with legendary race-car driver Ken Miles (Christian Bale) to defeat an epic foe, as brought to thrilling life in Ford v Ferrari. Based on a true story, the dramatic thriller unfolds primarily through the keen eyes of the designer and the driver as they prepare under deadline pressure for a 24-hour endurance contest, pitting the Ford Motor Company, guided by Henry Ford II (Tracy Letts) and Lee Iacocca (Jon Bernthal), against mighty Italian car company Ferrari.
In our exclusive featurette, Matt Damon and Christian Bale talk about the film and their admiration for the true-life characters they portray. Bale says: "The reason this story is so legendary is because these misfits challenged Ferrari. He was a goliath in the racing community." Damon says: "That mix between Ford and this bunch of Venice Beach gearheads … they're very different, but they have the same goal, to do the impossible." The actors also speak about the relationship between the characters and explain why they respect what the designer and the driver accomplished.
Directed by James Mangold (Logan), the film also stars Caitriona Balfe (TV's Outlander). Watch the video below, then get tickets to see Ford v Ferrari. It opens in theaters nationwide on Friday, November 15.