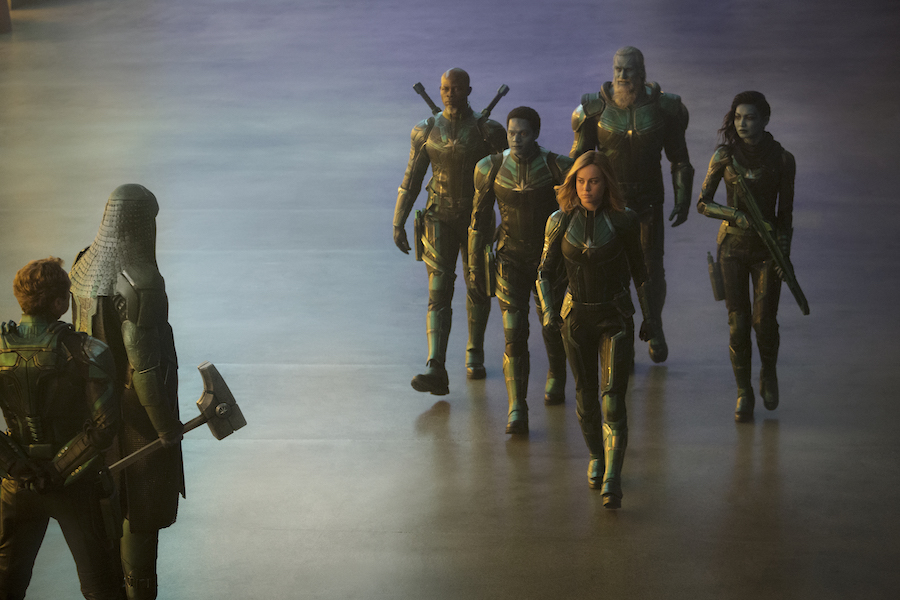 Here are a bunch of little bites to satisfy your hunger for movie culture:
Congratulation of the Day:
Women supporting each other comes through wonderfully in this fan art used by Wonder Woman star Gal Gadot to congratulate Captain Marvel Brie Larson on the latter's movie becoming the new box office champ for female-led superhero releases:
PHOTO: Gal Gadot on Instagram. from r/DC_Cinematic
Director Commentary of the Day:
For Vanity Fair's "Notes on a Scene" series, Captain Marvel directors Anna Boden and Ryan Fleck share some footage from one of their movie's action sequences — a chase and fight between Captain Marvel and a Skrull on Los Angeles transit — breaking down and commenting on the memorable train battle:

Surprise Visit of the Day:
Nobody was more excited for the release of Captain Marvel over the weekend than its star, Brie Larson, herself. Decked out in an exclusive track suit, the actress surprised fans at the theater the other night, helping at the concession stand, where she was humbled by her own likeness staring back on cups and popcorn buckets.
#CaptainMarvel herself, @brielarson, popped in to theaters on Saturday night to surprise fans on opening weekend! #HigherFurtherFaster pic.twitter.com/TP7Nt8KkiE

— Captain Marvel (@captainmarvel) March 10, 2019
Easter Eggs of the Day:
Now that Captain Marvel is out and has made a ton of money at the box office and chances are you've seen it yourself, Mr. Sunday Movies is here to humorously explain everything going on in the superhero blockbuster and reveal all the hidden Easter eggs and other references you might have missed:
Movie Trivia of the Day:
Speaking of things you might not have realized, CineFix devotes its latest video of "things you didn't know" to Marvel's new movie. Check out all the background material on the characters, comics, and production on the movie in this video of trivial facts about Captain Marvel:
Cosplay of the Day:
There's tons of Carol Danvers cosplay out there from fans attending Captain Marvel screenings in costume or just dressing up in celebration of the new movie. But other characters are represented too, such as with this cosplayer's awesome Talos getup with a sculpted mask:
My Talos cosplay is done! Ready for #CaptainMarvel #CaptainMarvelPH @captainmarvel premiere! Sculpted and makeup application by yours truly. Costume by Kino Kaoru. @brielarson @marvelstudiosph pic.twitter.com/DNuqJcIWnx

— Prince De Guzman Transformations (@PrinceDeGzmn) March 3, 2019
Hollywood Parody of the Day:
In honor of Marvel Studios finally putting out a movie focused on a female superhero, Comedy Central created a hero of its own in The Greenlighter, a Hollywood executive with the power to sign off on female superhero movies, especially ones where her gender isn't emphasized in a sexual manner:
Franchise Guide of the Day:
You've seen Captain Marvel and now you think you're prepared for Avengers: Endgame. But how clear are you on the Marvel Cinematic Universe timeline, including the setting of the latest installment that just arrived in theaters? Here's Yahoo! with a guide to when all the events of the MCU take place:
Filmmaker in Focus:
Tickets are now on sale for Disney's upcoming live-action version of Dumbo, and that has us thinking about the career of its director, Tim Burton. The man at the helm of such movies as Beetlejuice, Batman and Edward Scissorhands, who also created The Nightmare Before Christmas, is the focus of a new exhibit at NYC's Museum of Modern Art. Take a tour and learn all about Burton courtesy of ScreenRant here:
Classic Movie Trailer of the Day:
In honor of this weekend's release of Nancy Drew and the Hidden Staircase, let's look back 80 years to the previous adaptation of the teen sleuth mystery of the same name. From the Warner Archive, here's the original trailer for the classic movie starring Bonita Granville in the title role, which hit theaters on September 5, 1939: