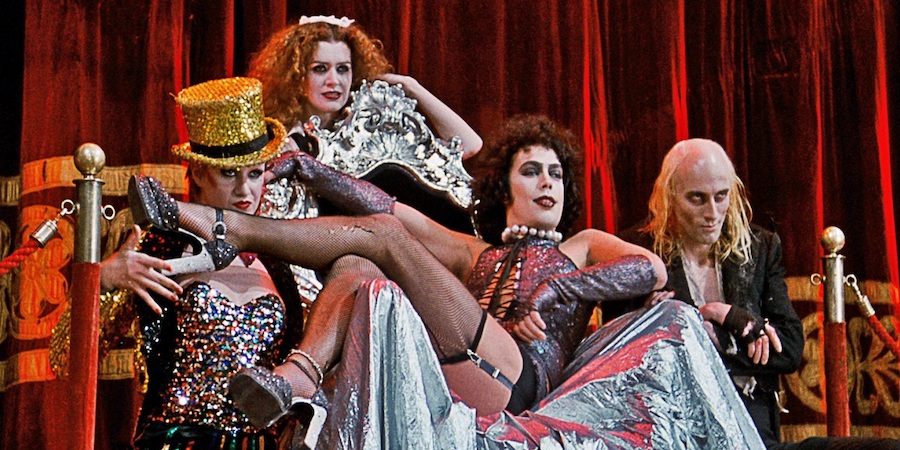 With The Rocky Horror Picture Show celebrating its 45-year anniversary this week, we decided to put together a list of some of our favorite midnight movies. What's a midnight movie? It's more than just a movie you watch at midnight. Indeed, there are two approaches to labeling a midnight release. The first, and most common, is that it's a film that was initially a box office bomb and failed to receive notice from audiences and critics alike but did find a second life through committed fans holding quote-along late-evening screenings. The second approach has become a way for film festivals like TIFF, AFI, SXSW to signify where horror/subversive genre movies can best stand out to what from the regular dramatic offerings by having a section all their own called Midnight Madness or something similar.
Rocky Horror obviously falls into the first camp, because while it celebrates its 45-year anniversary this week, it was actually 44 years ago, in 1976, when fans reclaimed it. 20th Century Fox, which had seen initial success at one theater in Los Angeles while it bombed everywhere else, looked deeper into what was going on at that theater to see if they could replicate it elsewhere in a second release. What they found is that one location in Los Angeles did a lot of repeat business, where many of the attendees went more than once during the week signifying a potential cult film was on their hands.
Fox re-released Rocky Horror into one specific New York City theater on April Fool's Day 1976. The theater was The Waverly Center — and it was chosen because The Night of the Living Dead had played midnight screenings on weekends there for a few years and its audience was accustomed to the midnight movie phenomena. After a successful rebranding in New York City, Rocky Horror expanded as a midnight movie, where fans could dress up, sing lines, and even throw items at the screen at specified points, and has in some form of fashion played weekly somewhere throughout the U.S. for 45 years, making it the longest-running theatrical film in history. It also set the template for how to have midnight screenings and audience participation that would be replicated for films such as The Room.

So let's do the time warp and look at a few more movies on our FandangoNOW streaming list!
HORROR COMEDIES
Horror was a natural fit for the midnight movie phenomenon, because what's scarier than watching a horror movie right before going to bed? But generally speaking, because the midnight movie phenomenon allows rowdier audience participation, it's horror films that have a tinge of comedy that get placed here. Thus, The Evil Dead trilogy is a perfect example of a horror midnight movie: limbs are hacked off and evil spirits reanimate previously dead bodies, but Bruce Campbell's ever-suffering Ash, with one-liner retorts and an over-it mentality, helps viewers laugh alongside their squirms and screams.
Sam Raimi's first film in the series took years of screenings and publicity stunts (such as booking ambulances outside the theater to "warn" attendees that the movie might necessitate a hospital visit from shock) to garner some word-of-mouth as a traveling film. It ended up getting distribution only after Stephen King called it "ferociously original" in an interview, and with a stamp of approval from horror's most popular modern author on the posters and VHS artwork, Evil Dead became an unexpected franchise — and horror comedy became a new genre alongside it.
More horror comedy midnight movie recommends: Evil Dead 2, Army of Darkness, Jennifer's Body, Vampire's Kiss, John Carpenter's Vampires, Ready or Not, Lifeforce, Gremlins.
HEAVY ON THE MUSIC
It stands to reason that with The Rocky Horror Picture Show creating a sing-along atmosphere for midnight movies that movies that feature many musical numbers or performances would get some midnight movie love. But to highlight a selection, we go back before Rocky Horror Picture Show to Beyond the Valley of the Dolls, a sequel to the melodrama movie, The Valley of the Dolls, that steered in the rock 'n' roll party direction and upped the purposeful camp that the first film had as a positive response, though it was made earnestly and not with irony in mind. Beyond the Valley of the Dolls was co-written by film critic Roger Ebert and cult sexploitation director Russ Meyer (Faster Pussycat! Kill! Kill!). With sexually free characters, wild dialogue, a mod rock soundtrack, Beyond the Valley of the Dolls is a nice bridge to what people would want later from a music-heavy midnight movie.
More music-heavy midnight movies: Little Shop of Horrors, Josie and the Pussycats, Hedwig and the Angry Inch, Heavy Metal, Heavy Metal 2000, Xanadu, Can't Stop the Music, Stop Making Sense, Phantom of the Paradise, Cats, American Pop, Purple Rain, Tommy, and again, The Rocky Horror Picture Show.
CAMPY DRAMAS
Also celebrating an anniversary this week is Showgirls, the most expensive NC-17 movie ever made that was considered garbage at release, but has received a massive critical re-evaluation and quote-along reclamation from fans as a misunderstood masterpiece. Essentially a re-telling of the classic Hollywood rags to riches tale except with rampant nudity as a dancer (Elizabeth Berkley) moves from Las Vegas strip clubs to the more respected (but still nude) casino stage performances, and experiences all the back-stage fights and jealousies that Hollywood loves to portray. Get out the dog food — Showgirls is 25!
More campy dramas: Mommie Dearest, Harold and Maude, Female Trouble, Polyester, Valley of the Dolls, The Adventures of Priscilla, Queen of the Desert, Performance.
MIDNIGHT COMEDIES
With comedy being a part of the most loved midnight horror movies, of course it makes sense that comedies themselves would be a major attraction. What better way to go to bed than having exhausted yourself with laughter? Now, the midnight movie comedy largely falls into two camps — the highly quotable comedy and the stoner comedy.
Well, guess what? The Big Lebowski has both. Because Lebowski is such a cult favorite and is referenced all over the internet — and even has a yearly bowling festival in its name — it's hard to remember that the Coen brothers' noir comedy was initially both a box office disappointment and met with critical shrugs. The shrugs were mainly because this was the Coens' follow-up to their Oscar-winning Fargo and the tale of a slacker (Jeff Bridges) who stumbles into a false identity sprawling L.A. mystery involving millionaires and European nihilists, was considered lesser than the high-class Oscar winner that preceded it. It's the Internet that saved Lebowski, with a fervent fandom quoting the movie all over message boards and chats, but in the year 2000 it became a midnight movie quote-along staple, and its critical reputation has grown immensely as a subversive take on the classic film noir structure. The Dude abides, but his calm nature was made more lucrative by his fans.
More midnight comedies: Office Space, Super Troopers, Kingpin, Valley Girl, Fast Times at Ridgemont High, Serial Mom, Hangin' with the Homeboys, Reefer Madness, Up in Smoke, Wet Hot American Summer, Spaceballs, Blazing Saddles, Easy Rider, Still Smokin'.
MIDNIGHT ACTION
Lastly, who hasn't enjoyed putting on an action movie to cap the night? If there's a common theme to all the midnight movies, it's that the less serious, the better. We need something to laugh at the ludicrous nature of the situations — the extreme violence, the quotable dialogue, and to love and respect the movie for all those reasons as well. To get into the more recent phenomena of the appeal of midnight movies, how about putting on Speed Racer? The Wachowskis colorful pop fantasia adaptation of the animated series, which has slowly become one of the Internet's most cherished movies. Because Speed Racer is so visually striking and the plot operates like a Saturday morning cartoon, it's the perfect way to ease from Friday night into early Saturday morning.
More midnight action movies: Mad Max, Battle Royale, Point Break, Road House, Super Fly, Rad, Attack the Block, Run Lola Run, Predator.
This is just but a taste of the 106 movies on our Staff Picks list of favorite midnight movies. Peruse them all at FandangoNOW where they are all available to rent or purchase.