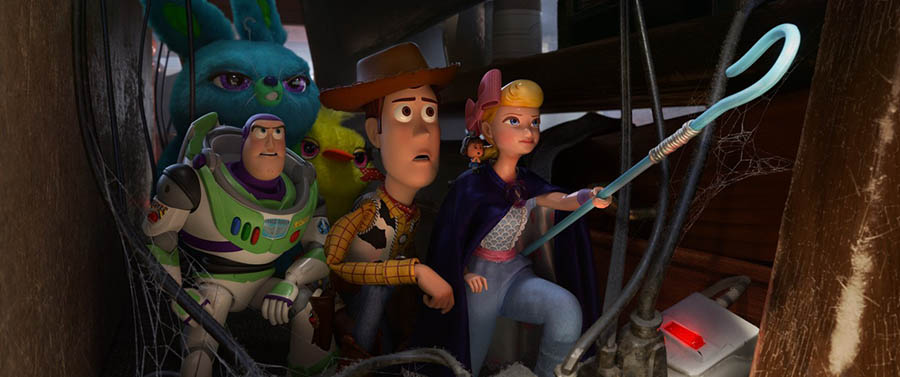 The marvelously amusing and touching Toy Story 4 proved once again that Pixar has the right stuff when it comes to combining heart and humor in its character-based animated films. As the closing credits rolled, it was difficult not to shed a tear or two, which we could then wipe away with laughter and fond memories of a wonderful shared adventure.
Naturally, that leads us to wonder what Pixar will do next. We've gathered information on their next three projects.
The colorful world unveiled in the first teaser for Onward may look vaguely family to a casual modern-day Earth dweller, yet it is also quite obviously different. Officially, Pixar says the film "introduces two teenage elf brothers who embark on an extraordinary quest to discover if there is still a little magic left out there." The voice cast is led by Tom Holland and Chris Pratt.
Release date: March 6, 2020. Sign up for a FanAlert and be the first to know when tickets and other exclusives are available in your area.
Soul
The official description declares: "Pixar Animation Studios will take you on a journey from the streets of New York City to the cosmic realms to discover the answers to life's most important questions." Pete Docter is directing, which gives us great confidence; he has been an integral component in Pixar's films since Toy Story and directed Monsters, Inc., the Academy Award-winning Up and Inside Out.
Release date: June 19, 2020.
Untitled Mystery Movie
Pixar has announced three upcoming theatrical release dates without specifying the titles: June 18, 2021, March 18, 2022, and June 17, 2022. In the past, the company has guarded its projects carefully, in part because they sometimes change quite dramatically during development and production, affecting planned release dates. Last year, we reported about separate projects being developed by Brian Fee (Cars 3, above) and Domee Shi (Bao), but we're still eagerly waiting to hear more.
Release date: June 18, 2021.