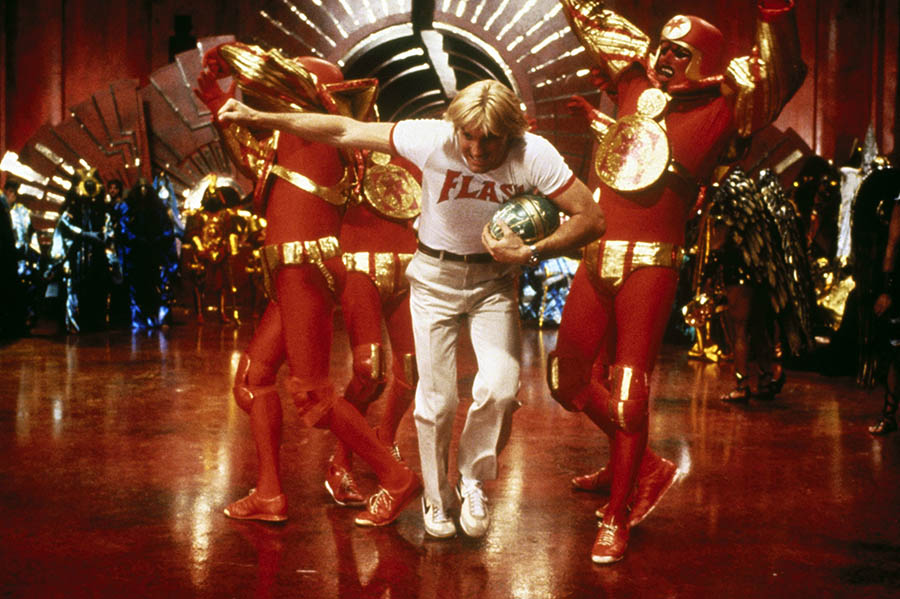 Alex Raymond created Flash Gordon in a comic strip first published in January 1934 and the character soon leaped to the big screen. He appeared in a live-action television series in the 1950s and then debuted on the small screen in animated form in the late 1970s, leading to his return in a starring role in 1980's Flash Gordon.
Sam J. Jones starred in the beloved adventure, featuring a memorable soundtrack by Queen. With Queen getting their place in the sun this week, courtesy of the musical biopic Bohemian Rhapsody, it only seems fitting that Flash Gordon is being resurrected as well. Read onward to learn all we know about the new project.
Who will write and direct?
Julius Avery, per Deadline. He directed the wartime terror thriller Overlord, which is poised for wide theatrical release on November 9 and has received positive advance acclaim. (Read more about it here.) Before that, he wrote and directed the crime picture Son of a Gun.
Who is Flash Gordon?
A college-educated athlete who travels unexpectedly to a planet called Mongo in the company of fellow adventurer (and romantic interest) Dale Arden and Dr. Hans Zarkov. They battle against the planet's evil leader, Ming the Merciless. Flash Gordon is a classic hero, always ready to defend the innocent and fight on their behalf.
What other filmmakers have tried to bring Flash Gordon back to cinematic life?
Fox acquired screen rights and hired J.D. Payne and Patrick McKay (Star Trek 3) to write a new script, based on a treatment by George Nolfi (The Adjustment Bureau), in April 2014. One year later, we heard that Matthew Vaughn (X-Men: First Class, Kingsman: Secret Service) had been hired to direct.
In January 2016, writer Mark Protosevich (I Am Legend, Thor) came on board to write a new screenplay that would be "nothing like any version of Flash Gordon you've seen." According to Deadline, Vaughn is still attached to the project as a producer.
What are the challenges faced by a new version?
The 1980 version is known in some circles as a camp classic, though a recent viewing confirms that it's really more of a good-hearted adventure that celebrates its comic strip origins with a cheeky sense of humor. Now that it's some 40 years in the past, and we are currently overflowing with comic book adaptations on the big screen, the challenge will be to find a new approach to the material that feels fresh and modern, without betraying what made the characters so appealing in the first place.
When might we see the new Flash Gordon movie?
Avery will first need to write the script. If the response at Fox is positive, we could see a new Flash Gordon on the big screen within two, maybe three years after that.