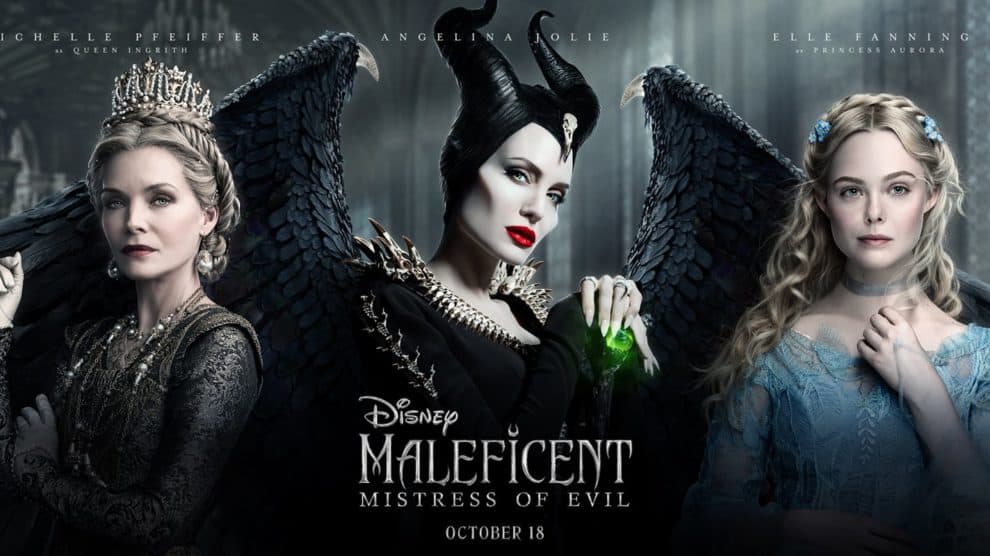 It's been five years since the release of Maleficent, Disney's hugely successful live-action retelling of Sleeping Beauty from the villain's point of view. Now Angelina Jolie is back in her role as the titular fairy for the sequel, called Maleficent: Mistress of Evil, as this misunderstood character's origin story continues.
Will she finally go full-on evil in the new movie? Will she face another villain who allows her to still seem more like a heroine? What fellow acting legend has joined the cast of the franchise for the sequel? Could Maleficent: Mistress of Evil top the first movie's box office gross to break the record for Jolie's biggest hit ever?
Here is everything we know about the fairytale follow-up:
Who is Maleficent?
Based on the wicked fairy godmother figure from Charles Perrault's 17th century story of Sleeping Beauty (and the Brothers Grimm's adaptation, Little Briar Rose), in Disney's live-action reimagining, Maleficent is a powerful fairy queen from a magical forest who was wronged in her youth by an ambitious human boy.
Sometimes she's depicted as more of a witch than a fairy, but at least in Disney's various versions, she is distinguished by her two large horns, which are usually covered by a headpiece. She also has a raven servant and, depending on the adaptation, she can turn either herself or the bird into a dragon.
Where have we seen her before?
Besides the original fairytales and a famous ballet adapted from those stories, the best-known incarnation of Maleficent is in Disney's 1959 animated Sleeping Beauty. There, she's the primary villain in a story focused on a sleeping curse she vengefully places on the princess Aurora.
Younger viewers also know Maleficent these days from Disney's Descendants franchise. In the first of the musical TV movies, Kristin Chenoweth portrays the wicked fairy as the main character's mother. Also on the small screen, Kristin Bauer van Straten plays Maleficent on the ABC series Once Upon a Time.
Because she's been one of Disney's most iconic villains for the last 60 years, Maleficent has also made appearances in various media from the Mouse House, from cartoons to books to video games, including the Kingdom Hearts series, as well as in the Disney theme parks' stage shows.
How is Maleficent different in her live-action movies?
Despite being the protagonist of her own movies now, Maleficent is still a bit of her wicked self. But since her backstory is portrayed, we learn more about how she got that way. As with most villain prequels, Maleficent's shows her as a character with heart and heroic duty before some tragedy leads her to evil ways.
In Maleficent, the character never turns into a dragon, as she does in the animated classic. Instead, the shapeshifting raven, whom she's more friendly with here, makes that transformation. She's also more of a protector and ultimately becomes a maternal figure for Princess Aurora rather than wishing to harm her.
What happened in the first Maleficent?
The previous movie depicts the title character's origin story, from her youth as a fairy who falls for Stefan, a human boy, through to her eventual war with her former love when he becomes king. His ascension into the royal family is granted after he betrays young Maleficent, cutting off her wings as false proof of her death.
Maleficent grows up to become a powerful leader herself and remains an enemy of the human kingdom. When she learns of Stefan's daughter, Aurora, the fairy queen puts a curse on the baby girl. But then she also winds up watching over the princess, with whom she reluctantly forms a motherly bond.
The curse on Aurora is fulfilled and puts the girl in a coma, yet unlike in the animated version, it is Maleficent's true love's kiss on the princess's forehead that awakens her, not that of a random prince. Maleficent gets her wings back, she lets Stefan fall to his death, and she and Aurora remain happily ever after together.
How successful was that movie?
Maleficent received mixed reviews leaning toward negative (with a rotten score of 53% on Rotten Tomatoes), though some critics and especially moviegoers were satisfied by Jolie's performance, the fantastic visuals and the feminist angle on the fairytale that allows for a more complex portrayal of the title character.
At the box office, Maleficent opened at number one in May 2014 with $69 million, one of the year's best debuts, and went on to gross $241 million domestically and $759 million worldwide. The movie remains Angelina Jolie's biggest hit yet, though that could very well change with the release of the sequel.
What is the plot of the sequel?
Maleficent: Mistress of Evil is set five years after the events of the first movie. Maleficent is happily protecting her forest realm while united with now-Queen Aurora's rule of her own kingdom. But when Aurora becomes engaged to Phillip, the prince whose kiss was ineffective at awakening her, a new conflict arises.
The godmother of the bride and the mother of the groom are an incompatible pair, mainly because Phillip's mom, Queen Ingrith, is not friendly toward fairies. In fact, she plans for the marriage between Aurora and Phillip to lead to humans and fairies becoming adversarially divided once again.
Who is returning from the first Maleficent?
In addition to Jolie, who marks her first live-action theatrical role since 2015 with her reprisal of the title character, Maleficent: Mistress of Evil sees the return of Elle Fanning as Aurora. Juno Temple, Imelda Staunton and Lesley Manville are also back as the fairy godmothers, Thistlewit, Knotgrass and Flittle, while Sam Riley again portrays the raven Diaval.
Who is new to the sequel?
The legendary Michelle Pfeiffer has joined the cast for Maleficent: Mistress of Evil as Maleficent's new rival, Queen Ingrith. The role of her son, Prince Phillip, meanwhile, has been recast with Harris Dickinson (Beach Rats) replacing Brenton Thwaites from the first movie. Shakespearean actor Robert Lindsay plays King John, who is Ingrith's husband and father to Phillip.
Oscar-nominated actor Chiwetel Ejiofor (12 Years a Slave) and Ed Skrein (Deadpool) are also new additions for the Maleficent sequel, both as male fairy characters. Ejiofor plays Conall, an ally who reintroduces Maleficent to other fairies, while Skrein is Borra, who becomes another antagonist in the movie since he wishes for fairies go to war with the humans again.
Who wrote the sequel?
The screenplay for Maleficent: Mistress of Evil is by Emmy-nominated Transparent writer-producers Micah Fizerman-Blue and Noah Harpster along with Linda Woolverton, who also penned the first movie and conceived the story for the sequel.
Who is the director?
Joachim Rønning, who co-directed the Oscar-nominated Norwegian movie Kon-Tiki as well as the Disney sequel Pirates of the Caribbean: Dead Men Tell No Tales, has gone solo to helm Maleficent: Mistress of Evil.

When does it come out?
Disney will release Maleficent: Mistress of Evil in U.S. theaters on October 18, 2019.
Watch the trailer below: