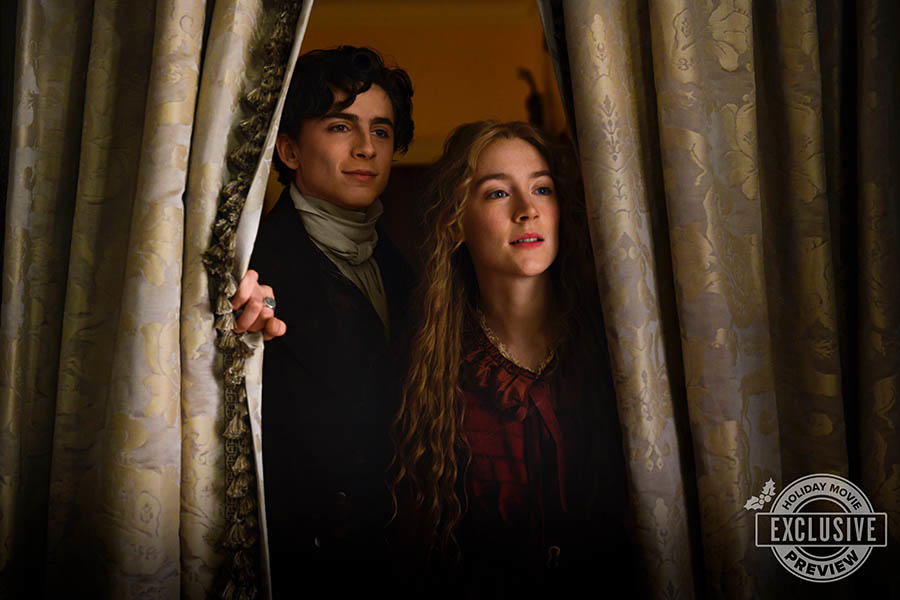 Loosely based on the life of author Louisa May Alcott and her three sisters, Little Women has proven to be a timeless literary classic. Now a fresh, warm, all-new adaptation is on its way to the big screen from an acclaimed filmmaker and it's filled with exquisite performances. Here's what you need to know before you go see Little Women in theaters.
What is this based on and what is the basic story?
Originally published in two volumes in 1868 and 1869, the acclaimed novel by Louisa May Alcott tells the story of four young women who follow their own distinctive paths as they come of age in a low-income household in 19th century Massachusetts. Their beloved mother is instrumental in their development; we also get to know the men with whom the women become involved. Drawing from her own experiences, Alcott created siblings Meg, Jo, Beth and Amy March as smart, caring and vivid people who leap off the page, inspiring deep devotion from both readers and critics.
What were the other incarnations of Little Women?
Louisa May Alcott's novel has inspired more than a dozen film and television adaptations. Katherine Hepburn starred as Jo March in George Cukor's Little Women (1933), which won an Academy Award for married screenwriters Sarah Y. Mason and Victor Heerman and earned two other Oscar nominations. Arriving as Hollywood was experiencing heat for some increasingly provocative productions, the film's traditional values were applauded by audiences. Mervyn LeRoy's 1949 version starred Janet Leigh as Jo March, with young Elizabeth Taylor as young Amy; it won an Academy Award for Best Art Direction. In 1994, Gillian Armstrong became the first woman to direct a film version. Winona Ryder starred as Jo; Kristen Dunst and Samatha Mathis shared the role of Amy; Claire Danes played the sickly Beth; Susan Sarandon embodied the motherly Marmee; Christian Bale portrayed the dashing Laurie. This beautifully-acted version proved to be a modest box office success and received three Academy Award nominations. Lea Thompson starred as Marmee in the most recent previous adaptation, directed and cowritten by Clare Niederpruem, which updated the setting to the modern day, starting with Jo in New York as a budding writer, then flashing back to her earlier years with her sisters and mother.
Who stars in this new version?
Saoirse Ronan stars as Jo March, a budding writer who is determined to follow her heart and pursue her own creative interests. Emma Watson plays her older sister Meg, a young woman who happily espouses traditional values. Florence Pugh portrays Amy, the youngest daughter and perhaps the most accustomed to having her own way. Eliza Scanlen plays the quiet and musical Beth. As their mother Marmee, Laura Dern is the epitome of a kind, gracious and supportive maternal figure. Timothée Chalamet is the dashing Laurie, a handsome and wealthy neighbor drawn to the vivacious March women. Meryl Streep provides a different perspective as Aunt March, the rare unmarried woman in a time when all women were expected to marry. The supporting cast includes Chris Cooper, as Laurie's benevolent grandfather, Louis Garrel as a possible love interest, Bob Odenkirk as the mostly absent Mr. March and Tracy Letts as a book publisher with interest in Jo's fictional work.
Who wrote the screenplay and directed? Anyone we might recognize?
Greta Gerwig. She first made a mark as an actress in the acclaimed indie Hannah Takes the Stairs, which she co-wrote, more than 10 years ago. Since then she has continued to appear in both independent features and Hollywood productions, as well as acting in and co-writing acclaimed films such as Frances Ha and Mistress America. She earned two Academy Award nominations for writing and directing Lady Bird, which starred Saoirse Ronan in an Oscar-nominated role, as well as Timothée Chalamet and Tracy Letts.
How is this new one different from what we have seen previously from this title?
Most previous film versions told the story in chronological order, starting during the Civil War and including most (but not all) of the various joys and sorrows experienced by the March sisters. Greta Gerwig's new version begins with Jo as a young adult in New York after the Civil War, before flashing back to the teenage years of the sisters and including some (but not all) of their joys and sorrows. The structure is similar to last year's modern-day version, but it handles the flashbacks in more eloquent fashion and empowers its characters without betraying the novel's original intentions, while acknowledging the concerns and interests of contemporary audiences. It also features a truly outstanding performance from Saoirse Ronan as Jo, as well as a startling, affecting turn by Florence Pugh, who somehow convincingly portrays her character at two stages of her life: as a bratty 13-year-old and a far more mature woman, aged 20. Really, the entire cast is quite memorable; the film itself is gently moving, genuinely joyful and emphatically modern in its sensibilities.
Watch the trailer and two clips below.
When can we see it?
Little Women will open in theaters everywhere on December 25, 2019. Sign up for a FANALERT® and be the first to know when tickets and other exclusives are available in your area.