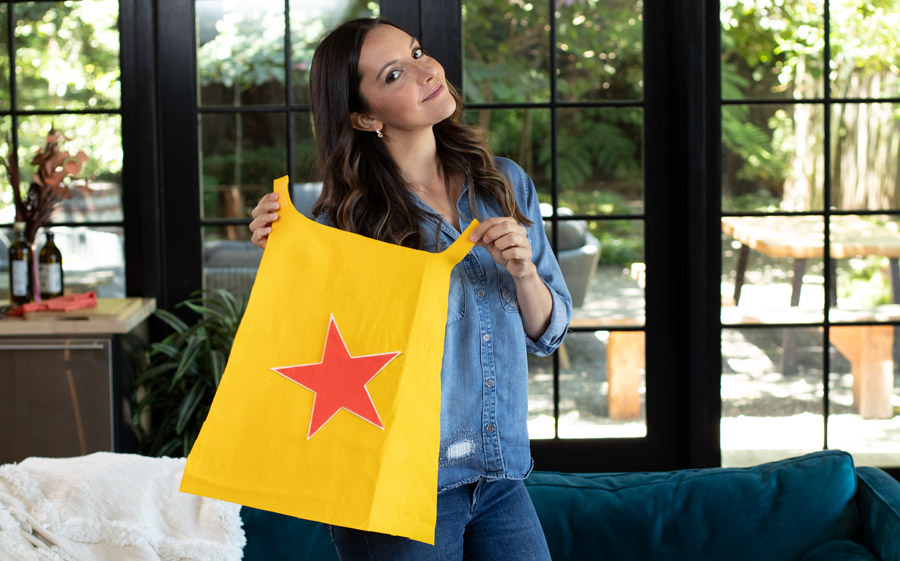 Who says you can't dress up for family movie night? Not us, that's for sure! We're here to supercharge your summer movie scene with a super easy DIY project that will make your kids feel totally ready to take on the world. Brit Morin here, Founder and CEO of Brit + Co, mom to two teeny tiny superheroes who definitely know a thing or two about spending an entire day in a cape. Quarantine creativity is real, y'all! I've teamed up with DQ® to share some of my favorite kid-friendly projects — perfect for making before, during or after watching a flick with the fam.
In today's project, I'll show you how to create a super colorful, unique cape that you can recreate and customize with your little ones.
Follow along with me to see how to turn easy-to-find materials into the new hot ticket item in your kids' dress-up box. Up, up and away!
Materials and tools:
Large pieces of felt fabric

Fabric scissors

Pre-cut felt shapes

Fabric glue

Pen for tracing shape
Instructions:
1. Have your kid choose their favorite felt color. Wrap the felt around your kid's shoulders to mark sizing.
2. Cut your felt into a trapezoid. Then, cut a "U" shape from the top to create space for your child's neck.
3. Add adhesive Velcro to each side of the cape — this is how it will clasp together.
4. Next, create some pre-cut shapes for the kids to glue on. We created a lighting bolt, stars and, of course, planet Earth!
5. Now's when your kiddos come in! Have them arrange the shapes on the cape and glue on using fabric glue.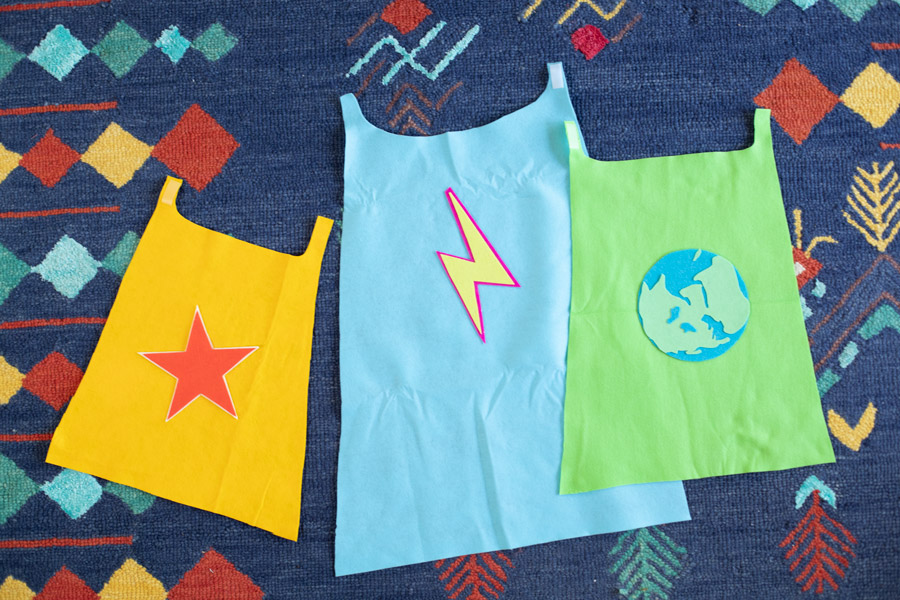 Okay, fine, we probably should have created some adult-sized capes too! After all, parents have legit superpowers.
Go nuts with customization — after adding basic shapes like the ones you see here, add in your child's initials to take it to the next level. We know your little superhero will love making this with you!
Looking to pair your next superhero movie with a tasty treat? Check out the OREO® Fudge Brownie Blizzard® Treat over at your local DQ®, and then head to FandangoNOW to watch superhero movies for as low as $1.99.
Sponsored by DQ®