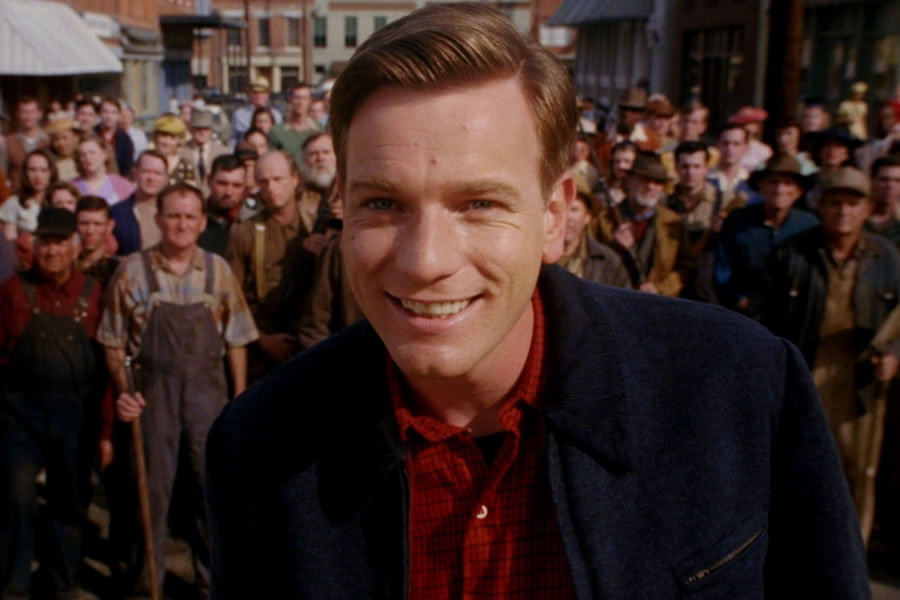 While segments of Star Wars fandom continue to try and advocate for a spin-off film featuring Obi-Wan Kenobi between the events of Revenge of the Sith and A New Hope, comics-based movie fans were given one hell of a surprise this week when we learned that actor Ewan McGregor would be jumping into superhero film for the first time -- specifically, into the DC Universe.
McGregor will join the cast of the upcoming Birds of Prey as Roman Sionis/Black Mask in the film, to be directed by Cathy Yan, which will also see the return of Margot Robbie as Harley Quinn from 2016's Suicide Squad, in addition to Mary Elizabeth Winstead as the Huntress, Jurnee Smollett-Bell as the Black Canary, and Rosie Perez as Gotham City police officer Renee Montoya -- all characters with decades of legacy in the pages of DC Comics and in animation.
Birds of Prey will prove to be an excellent addition to the lineup of forthcoming DC Comics-based movies, but who is the guy that McGregor will be embodying? Well, for DC fans and most especially Batman fans, adding Black Mask to the list of characters active in this iteration of the DC Universe is an exciting prospect.
Who is Black Mask?
Roman Sionis is a man who was born into privilege in Gotham City. Unlike other examples of Gotham wealth, like the philanthropic Wayne family, though, the Sionis family represented extreme self-absorption and obsession with outward appearance, embracing the 'finer things' that came with their stature in the city. That concern also outweighed the concern for their young son, Roman. This is exemplified by the fact that when he was born, the doctor who delivered Roman carelessly dropped the baby, who landed on his head, and the Sionis parents were more concerned with covering that incident up than they were with the damage it may have done to their child.
Roman grew to resent the 'masks' that his parents wore in public, since they were only concerned with maintaining their social standing. Even though the elder Sionis' despised Thomas and Martha Wayne, they still spent time with them to maintain their place in the social sphere, making Roman befriend the Wayne child, Bruce. As he got older, Roman was given a prominent position in his family's company and fell in love with a model named Circe, who was not part of a wealthy family. When Roman's parents demanded that he break the relationship off, the bitter and resentful Roman burned down his family home, killing his parents and leaving him with the wealth and company of his family name.
Roman was a poor business owner, though, and eventually led his company to financial ruin. Bruce Wayne, now head of Wayne Enterprises, offered to bail out the company but only if he could take control of it, and a bitter, vengeful Roman – now without his company and wealth – broke into his family crypt, and fashioned a mask out of his father's ebony casket. Using his contacts and resources, and taking advantage of his unscrupulous instincts, Roman became the gangster Black Mask.
As a Batman foe, Roman is an interesting hybrid of the 'old guard' of Gotham City along with the 'new blood' of the underworld. He's a sort of fusion of the old school organized crime mentality that the Falcones and the Maronis used to consolidate power in their day, but also exists as an extreme personality that defines the 'modern' Gotham underworld as exemplified by the likes of the Joker, Two-Face and the Riddler.
He made his first appearance in the comics in 1985, but actually started becoming more prominent in the last decade via appearances in major Batman comics stories like "War Games" and "Under the Hood," staking his place as a major thorn in the side of the Dark Knight by representing the biggest organized crime threat in Gotham.
In a world of more colorful supervillains, Black Mask is one of the last mobsters that actually manages to hold Batman and his allies at arm's length.
Where Has Black Mask Appeared Before (Besides Comics)?
It's interesting, because as big a villain as Sionis is in the Batman mythos these days, he hasn't appeared all that much in other Batman media, even though he's generally ripe for adaptation. A version of Black Mask, simply called The Mask and named Richard Sionis, appeared in the Fox series Gotham with quite a lot of liberties taken with the original material, and was killed off in only his second appearance. Richard was later canonized to be the name of Roman's father in the comics in 2016.
The biggest, most truthful appearances the character has likely had rests in animation and video games. Black Mask was one of the first major enemies you face as Batman in the game Batman: Dark Tomorrow (2003), before making major appearances in several of the excellent Arkham games, including as an ancillary adversary in Batman: Arkham City (2011), a major foe in Batman: Arkham Origins (2013), and as an enemy in a DLC encounter for Batman: Arkham Knight (2015).
Perhaps his best appearance, though, rests in animation when he appeared in Batman: Under the Red Hood (2010), voiced by actor Wade Williams. He also showed up in animated movie Batman: Bad Blood (2016), voiced by Steve Blum. Outside of those, though, Black Mask has never appeared in a Batman movie, and seems ripe for adaptation.
Ewan McGregor's casting is an encouraging bit of news to come out of Birds of Prey, and even though Roman won't be facing off on the big screen against Batman himself, this likely opens the door to that possibility at some point. Roman Sionis could potentially be a very personal adversary for Batman in a movie someday, but it should be awesome to see him give the Birds of Prey a hard time when that movie is expected to release in February of 2020.