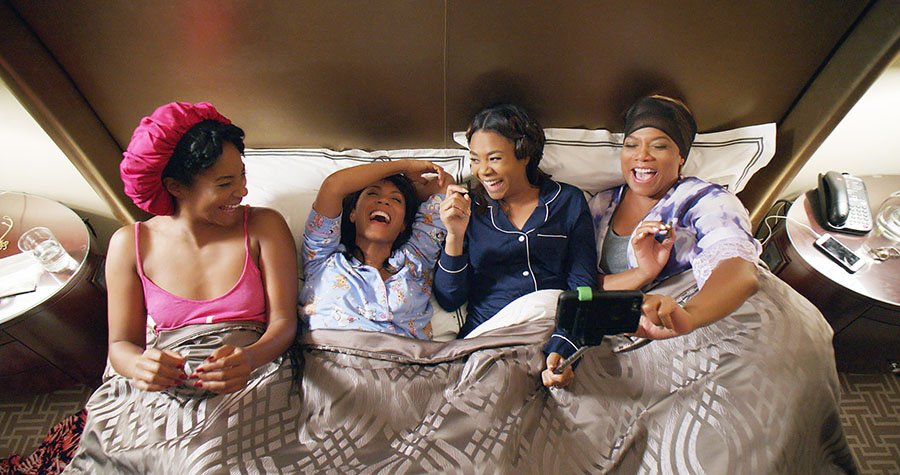 Are you ready for a break from your normal routine? Even if you're not able to travel away from home right now, we all can enjoy watching movies in which people get to travel with people they love, explore exciting destinations, and have an unexpected adventure or two -- or three or four!
Why not book your movie vacation now? Check out our full list of curated vacation movies available to watch now on FandangoNOW. As your friendly (movie) travel agents, we have a few suggestions.
Vacation With Friends
We enjoy spending time with our friends, but getting together in a time of social distancing is tricky. When we're able to get back together, consider a vacation with a few of your best buds. Whether you have a purpose in mind or just want to have fun, it's sure to be a memorable time.
Friends on a Mission
Miles (Paul Giamatti) and his good friend Jack (Thomas Haden Church) head to California's Wine Country, each intent on accomplishing something meaningful and personally important; the former seeking a sense of purpose in his life, the latter wishing for a last fling before marriage. Virginia Madsen and Sandra Oh also star.
More movies about vacationing friends on a mission: Wet Hot American Summer, Up, Aquamarine, The Sisterhood of the Traveling Pants, Mike and Dave Need Wedding Dates, One Crazy Summer, Weekend at Bernie's, The Kings of Summer
Friends Just Want to Have Fun
Lifelong friends played by Regina Hall, Queen Latifah, Jada Pinkett Smith and Tiffany Haddish head to New Orleans for an annual festival, intent on renewing their friendships while also enjoying a break from their respective struggles in their careers and families. Naturally, they get something different than they anticipated.
More movies about friends deepening their bonds on vacation trips: The Hangover trilogy, Spring Breakers, Monte Carlo, Couples Retreat
Vacation With Family
We love each and every member of our family equally -- or do we really? In these movies, we find out that all families are the same when they go on vacation, whether that's a local trip or somewhere in the wide world. For the more adventurous, we recommend the "family journies" option.
World Travel
Native New Yorker Rachel Chu (Constance Wu) accompanies her boyfriend Nick (Henry Golding) to attend a wedding in Singapore, where she meets his family for the first time. She is introduced to a world of wealth, privilege and unexpected secrets.
More movies about vacationing families who uncover surprising secrets: Mamma Mia!, Force Majeure, Downhill
See the USA
Chet (John Candy), his wife Connie (Stephanie Faracy), and their two sons are enjoying a peaceful vacation at a lake resort in Wisconsin, which is exactly what they all need as a break from their lives in Chicago. What they don't need is their sister-in law (Annette Bening) and her husband (Dan Akyroyd) arriving with their two daughters, shattering the peace and riling up nerves like there's no tomorrow.
More movies about families whose bonds are tested on vacation: Cheaper by the Dozen 2, The Last Song, Mr. Hobbs Takes a Vacation
Family Journeys
Owen Wilson, Adrien Brody and Jason Schwartzman are brothers who have grown ever more distant from each other, especially in the year since their father passed away. They decide to travel across India on an epic road trip aboard a legendary train with the ambitious hope of finally overcoming their differences, including their mutual distrust.
More movies about family members on life-changing road trips: Are We There Yet?, Little Miss Sunshine
Vacationing With Myself
Right now, we may be in a location without friends or family members nearby. We can take inspiration from watching movies about strong women who set out on their own to change their lives – and the men who need a little help to change theirs.
Women Who Change Their Lives
How Stella Got Her Groove Back
Stella Payne (Angela Bassett) has proven herself to be highly successful in her stressful career, so when her good friend Delilah (Whoopi Goldberg) suggests a relaxing vacation in Jamaica, she is all in. What she doesn't expect, though, is to meet a younger man (Taye Diggs) who prompts her to reexamine the priorities in her very busy life.
More movies about women on trips of self-discovery: Under the Tuscan Sun; Where'd You Go, Bernadette; Last Holiday; Shirley Valentine
Men Who Leave Home to Grow Up
The Secret Life of Walter Mitty
Facing a huge change in his professional life, the methodical Walter Mitty (Ben Stiller) seizes an opportunity to live out his dreams, becoming a globetrotter in search of a mysterious photographer. It's also a chance for him to finally grow up and come to grips with his romantic yearning for a winsome coworker (Kristen Wiig).
More movies about men who grow up on a trip away from the familiar: Forgetting Sarah Marshall, The Beach, The Motorcycle Diaries, Mr. Bean's Holiday, The Talented Mr Ripley
Road Trips
Hitting the road isn't always about self-discovery or spending time the people you love. Sometimes it's about completing a mission, making it to an important appointment or just seeing what there is to see.
On A Quest
When his bike is stolen, Pee-Wee Herman sets off on a cross-country odyssey to retrieve it. Along the way, he makes many friends, dodges enemies and learns a very important lesson about the Alamo -- all with his trademark optimism and whimsy.
More questing movies: Moana; Finding Nemo; The Muppet Movie; The Adventures of Priscilla, Queen of the Desert; Top End Wedding; Rain Man; RV; National Lampoon's Vacation
Road Trips for Wanderers
When a stressed-out ad man (Albert Brooks, who also directed and co-wrote) doesn't get the promotion he thinks he deserves, he and his wife quit their jobs, sell their assets, buy an RV and set off to ramble the roads of the US for the rest of their lives. One losing night in Vegas later, the couple has to figure out how to survive in the middle of America.
More meandering movies: Spider-Man: Far From Home; Bon Voyage, Charlie Brown; The Big Year; American Honey; National Lampoon's European Vacation; Wild Hogs
Summer Lovin'
With those long days and warm nights, summer is the perfect time for a movie teenager to learn a little bit about life and love – and for a movie adult to remember that you can fall in love anywhere, at any time.
Coming of Age
When Baby's (Jennifer Grey) family heads to the Catskills for the summer of 1963, she gets a crash course in class and gender issues, dancing…. and falling in love with Patrick Swayze.
More coming-of-age love stories: Moonrise Kingdom, Call Me By Your Name
Grown-Up Love
Jesse and Celine (Ethan Hawke and Julie Delpy) meet on a train in Europe as young adults. They spend a night roaming the streets of Vienna, talking about life and quickly falling in love. The story continues in two sequels, each set nine years after the previous movie – and it all starts in Vienna.
More adult love stories: A Good Year, Roman Holiday, Just Go With It, Punch-Drunk Love, The Lady Eve, Two for the Road. Honorable mention: (500) Days of Summer
The Destination
Some vacation movies are about the journey, and some are about things that could only happen in a specific setting. And then you have the movies that feature such beautiful scenery that you might just find yourself daydreaming about your next trip.
Location, Location, Location
Bob (Bill Murray) is feeling stuck in his life and uncertain about what comes next. In Japan to shoot a commercial, he hides away in the hotel bar. When he meets kindred spirit Charlotte (Scarlett Johansson), they forge a quiet connection against the frenetic background of Tokyo's restaurants, club and streets.
More locations: The Grand Budapest Hotel, Murder on the Orient Express, The Muppets Take Manhattan, Rio
Enjoy the Scenery
A young woman (Kate Bosworth) tries not to let a new love distract her from her goal of returning to the world of professional surfing, all while trying to earn a living. It's a classic tale, but let's be honest: it's the rolling surf of Hawaii's North Shore that's the real star here.
More beautiful vistas: Out of Africa, Cinema Paradiso.
For more suggestions, check out our curated list of vacation movies available to watch over on FandangoNOW