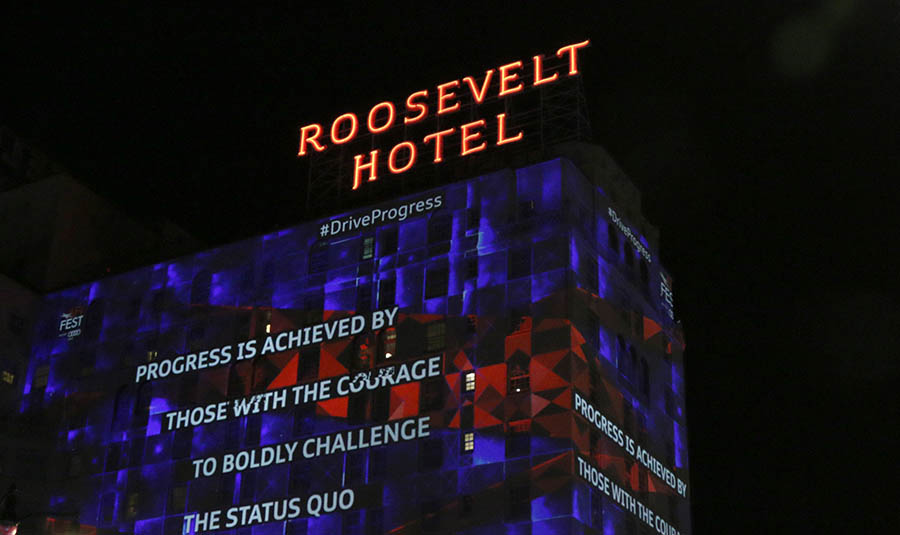 After multiple rounds of film festivals from Venice to Telluride to Toronto to New York that all occur in the span of a little more than a month, the AFI Film Festival is where the almanac of festival movies comes to a close. The Hollywood-set film festival, curated by the American Film Institute, gets a few splashy world premieres (this year On The Basis of Sex, Mary Queen of Scots and Netflix's Bird Box) but it's also the last theatrical release for many titles before Oscar voters start watching their screeners at home. In that regard, this was the final festival stop for movies like Widows, Roma, and Green Book, but also a ton of Best Foreign Language contenders, as most of the short-listed films played at the festival. But the coolest thing about the AFI Film Festival, other than the homecoming to Los Angeles for a number of films that've run the festival gauntlet, is that it's free for the public to attend. In this way, it's less exclusive than most film festivals and truly rewards filmgoers who've been following the awards season like a hawk.
So without further bluster, with the festival coming to a close last night, we've rounded up a few recommendations from the festival to put on your radar. Be sure to check out our similar roundup from TIFF and Fantastic Fest as a number of AFI titles also played those fests.
Roma
Watch it because… Alfonso Cuarón goes full-on Fellini! This is the Oscar winner's (Best Director, Gravity) personal tale of a maid (a great Yalitza Aparicio) who becomes pregnant but cares for the children of the house more than her own potential motherhood, it's fitting that the emotional heft is on the back of a woman whose role affords her little sentiment - and thus, there is no sentimental musical score. And this is a very emotional film. Roma is a beautiful, tender, and massive movie, with the usual jaw-dropping visual moments from Cuarón, though fittingly, those moments are more stable than we're used to from the auteur; the camera movements being pans and 360 spins, but never handheld. This film is so personal to Cuarón that he doesn't need to charge the camera to get intimate with it; it's in him.
Expect to hear Roma and Cuarón all throughout awards season because the director wrote/directed/edited/produced AND did the cinematography. – Brian Formo
When you can watch it: Netflix is releasing Roma in theaters three weeks prior to offering it on their streaming service on December 14. If you live in New York, Los Angeles, or San Francisco you can see it on the big screen November 21, but then the film will be expanding to 100 theaters domestic after Thanksgiving, so be sure to check your city listings if you want to experience Roma on the big screen (which we highly recommend).
Cold War
Watch it because… It's one of the most beautifully shot movies of the year. Cold War will test your desire for plot over mood, using romance as grief instead of romance as air to breathe. It covers 20 years for two people in under 90 minutes. Major events have no resolution, but instead, Pawel Pawlikowski (Ida) treats Cold War as a flip through a photo album with a loved one - you get a sense of what the subject seems important, some items resolved with a line, but pay attention to the photos where they pause for importance because that is the story they want to tell.

Luckily, this black-and-white photography is beautiful, so the pauses work. It's a messy affair of two urban drifters (Joanna Kulig and Thomasz Kot) posing as peasants for Polish pageantry, and then are treated as peasants in Paris simply for being Polish. She has a damaged energy that comes through as sultry and sad when she sings, and he has a feverish piano sensibility. They drift in and out of love and other relationships, sometimes due to the Russian occupation of the Eastern Bloc, sometimes due to their desire to hurt the other for their infrequency of appearance. This is Fellini cut in half, dropping all philosophy, and just focusing on the various fountain dances and the person we chase for years, not just one night, to various fountains, hoping they can lead us to a better view.
When you can watch it: A limited theatrical run starts December 21 in select cities.
Cam
Watch it because… Cam is a quality debut film, from director Daniel Goldhaber and writer Isa Mazzei who have another Blumhouse feature set up for 2019. It concerns a webcam girl (Madeline Brewer) who's climbing the burlesque ranks in fan popularity but once she crosses into the top 50 (out of thousands) she all the sudden gets locked out of her account and replaced by a duplicate. Cam is nice and twisty, shows the dual addiction to buying someone's time and being bought, and its faults only lie in various things that don't align perfectly but nonetheless don't hinder the twists.

The duplicate camgirl "living" astride an existing site where you can just download every show is an intriguing digital monopoly on someone's body and personality after they've subjected themselves to potential for public ridicule. I also give points for this being a non-judgmental film about girls who cam. On one hand, it shows that extremities are the rage within online pornography, but on the other, this is a woman who wants to reclaim her account, body and image. It's rare that we get a film about sex work where the end game isn't about leaving it, but about controlling your presentation within it. And coming from the pen of a former camgirl herself, there's a lot of intriguing little world details, like the home where multiple camgirls meet to try to help get each other climb through the charts by administering various challenges through methods that allow their bodies to be test their limits for token gain. ­— Brian Formo
When you can watch it: It's in select theaters and available on Netflix as of today, November 16!
On the Basis of Sex
Watch it because… Unlike most biopics, On the Basis of Sex focuses on one narrative thread instead of birth to end. This is the story of Ruth Bader Ginsburg's struggle to get into the field of law despite being the top of her class and the one case of gender discrimination against a man that granted her entry to the courtroom, changing history and her story ever after.
The RBG documentary was one of the highest-grossing indie films of the year already, but even if you've seen it, there are new things to learn from Mimi Leder's film. The director of Deep Impact and HBO's The Leftovers focuses primarily on the give-and-take marriage between the Ginsburgs, played by Felicity Jones and Armie Hammer, and how she built the case for the ACLU for a man who took care of his ailing mother but did not receive the tax credit that women did. Narratively, it's honed in on that specific case, and watching the film on a day that RBG was in a hospital bed was an emotional experience. Anyone who sees equal rights as human rights will find something to like in On the Basis of Sex. — Brian Formo
When you can watch it: On the Basis of Sex opens in select theaters December 25 and expands into 2019.
In Fabric
Watch it because… Peter Strickland makes odd movies and there won't be much odder in 2019 than a haunted dress, the people it finds, and the shopkeepers that keep it in circulation for their sexually deviant desires. If you've seen any of Strickland's previous films The Duke of Burgundy or Berberian Sound Studio, you know the stylized treat you're in for. If you haven't and a haunted red dress that sears itself to the flesh sounds like something you're interested in, check out his previous films or any Italian giallo from the '70s to get a sense of the style. And if you're not a horror hound, don't worry, In Fabric does a lot for the laughs. — Brian Formo
When you can watch it: A24 will release In Fabric in 2019, but it currently doesn't have a set date.
Mary Queen of Scots
Watch it because… of the following tweets! We weren't able to attend the closing night film, so you'll have to take the word of those below who caught the Margot Robbie-Saoirse Ronan showdown last night:
It seems the MARY QUEEN OF SCOTS embargo is up, so I'll say that it is full of gorgeous tableaux (Josie Rourke should make many more movies); Saoirse and Margot have a HEAT-esque one-scene convergence that crackles; and it really refreshingly villifies straight men

— Richard Lawson (@rilaws) November 16, 2018
I am here for bad-ass queens Saoirse Ronan and Margot Robbie in MARY QUEEN OF SCOTS. And FINALLY...FINALLY, a historical film that includes POC and Queer characters, not just as background actors, but actually part of the story. My review for The Wrap: https://t.co/Y16jBcQwLD

— Yolanda Machado (@SassyMamainLA) November 16, 2018
Robert Kojder with a ???? review of Mary, Queen of Scots... https://t.co/WfFE4BdW0L pic.twitter.com/76j5HODIPa

— Flickering Myth (@flickeringmyth) November 16, 2018