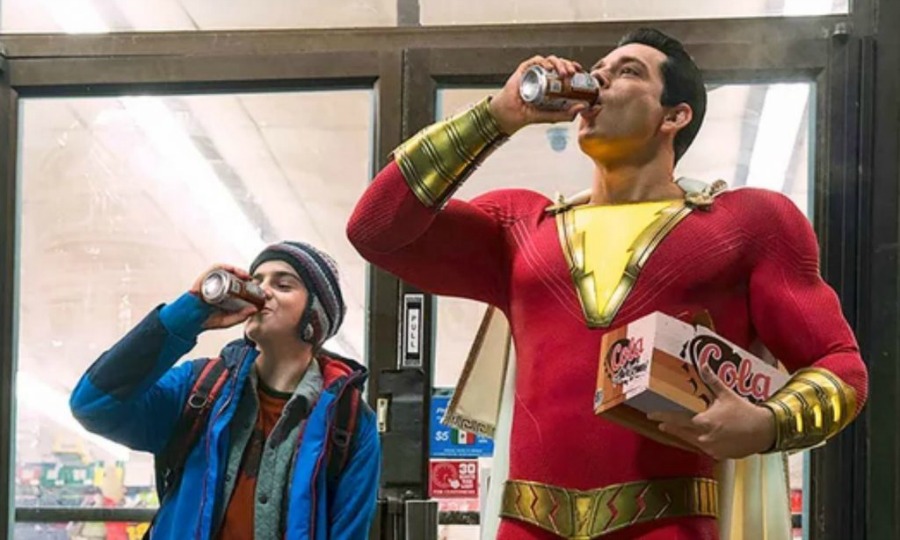 DC Films is about to show both how light and how dark their movie adaptations can get with their two very different 2019 releases.
For the latter, the Martin Scorsese-inspired Joker will star Joaquin Phoenix as a failed comedian who becomes the titular iconic Batman villain. Co-written and directed by Todd Phillips, the aim there is a gritty, potentially R-rated crime drama. The former is Shazam!, a bright '80s-style comedy in which Zachary Levi plays a teenage boy whose mind is magically transferred into a super-man's body by an old wizard.
Check out an exclusive behind-the-scenes image from Shazam! below; click to enlarge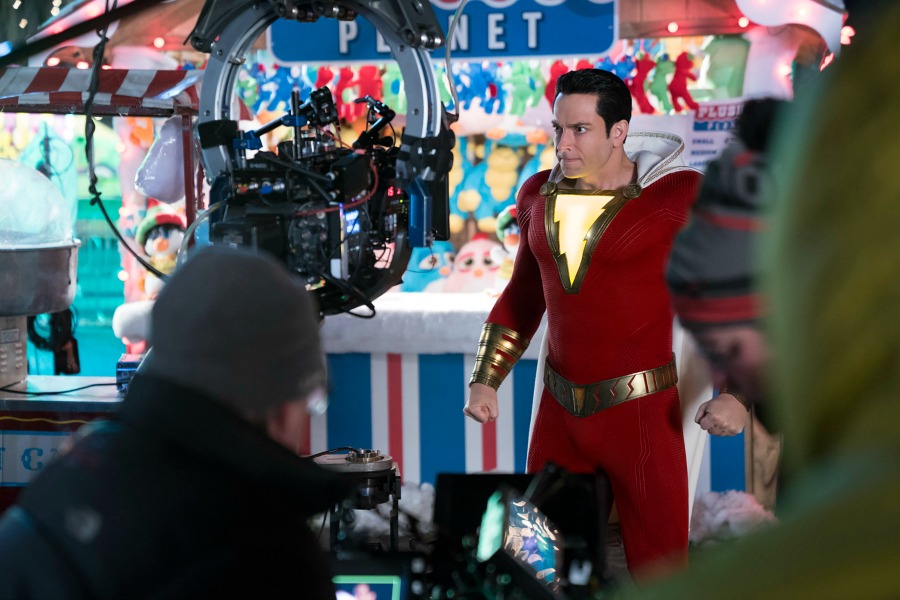 Unlike Joker, Shazam! is also a part of the same universe of movies we've seen from DC in recent years, though the likes of Batman, Wonder Woman and the rest of the Justice League won't be showing up to save the day here; they're all more like celebrities outside of the bubble of Philadelphia, where foster kid Billy Batson is rooted before and after he becomes Shazam. The offshoot isn't a smaller entry into the DC Extended Universe, though, because its heart and its humor promise to be bigger than anything that's come before.
David F. Sandberg, director of Shazam!, suggests the movie will appeal to anyone who has ever dreamed of being able to fly or fight crime with ease. He told Fandango he's especially excited for audiences to see "all of the scenes with Shazam learning his powers." Billy is bestowed with great strength and speed and more but doesn't know what all he can do at first. With help from his pal Freddy Freeman, he does some trial and error to determine his abilities. "It's such a joy seeing a kid get to become a superhero," Sandberg says, "and it's not something we're used to seeing. Which is kind of weird because it's the ultimate wish-fulfillment."
While Shazam! doesn't seem as epic in scope as the DC movies Man of Steel or Aquaman, moviegoers are still going to want to see this one in the theater, and that's only partly because it still features plenty of the extraordinary spectacle one can expect from a superhero blockbuster. Sandberg explains there's an additional reason to head to the multiplex for Shazam! "Besides the big action set pieces that are best enjoyed on the big screen," he tells Fandango, "it's a really funny movie that really benefits from being seen together with others."
If you want laughs as much as you want thrills from your comic book movies, and you're hopeful for more superhero fare that's fun for the whole family, Shazam! sounds like the perfect thing to watch with a crowd. So, be sure to share in the experience of enjoying this fresh and fascinating direction for the DC Extended Universe in theaters when it opens on April 5, 2019.
See The Top Family Movies of 2019