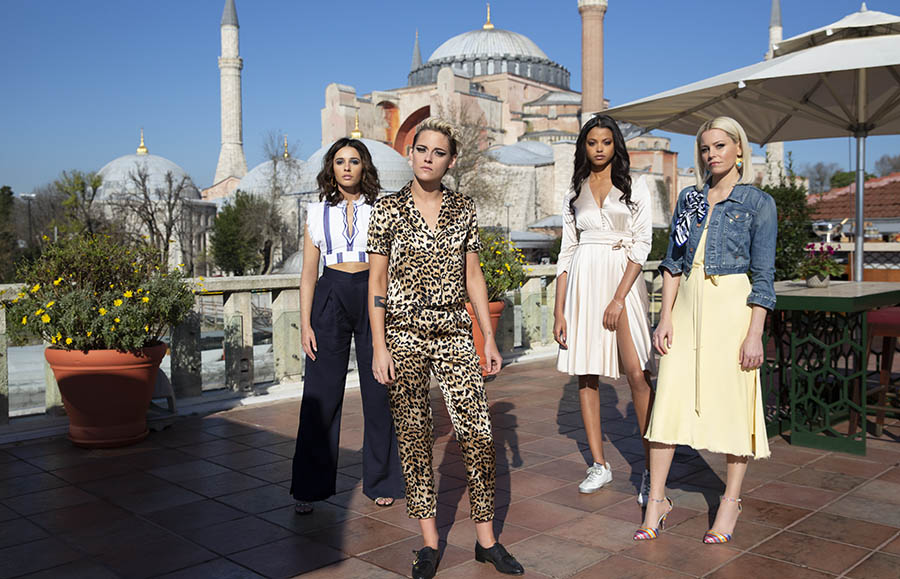 After first being introduced to audiences in the 1976 TV show, Charlie's Angels has not only become a pop culture staple, it's a franchise that's near and dear to so many fans' hearts. This November, a new Charlie's Angels movie will arrive (16 years after the last film, Full Throttle) and it has a whole new set of Angels, Bosleys, and bad guys' butts to kick. While paying ode to the Townsend Agency's legacy, this latest interpretation was helmed and co-written by Elizabeth Banks (who also stars as Bosley).
It should be noted, however, that this film is not a reboot (a case that Banks and producers have made super clear). It's a celebration of the Townsend Agency's expansion with a modernized take on how powerful Charlie's Angels are when they work together… even 40 years later. Of course, chaos, action, comedy and a plethora of colorful characters' antics ensue. When visiting the set in Berlin last fall, Fandango got the scoop from the cast and production team to answer all of your biggest questions about what to expect from the new Charlie's Angels — including its biggest similarities and differences from the originals. Check it out, below.
1. When and where does this take place?
Charlie's Angels takes place now — 40 years after the chronicles of the original Angels in the TV show (which ran from 1976 to 1981). This installment, however, is going worldwide and showing the agency's expansion around the world since it was first established. While this film is based in Berlin, viewers will get a global feel with branches in Istanbul and Los Angeles as well, to name a few. "Elizabeth Banks, when she came into this, she thought, 'Well, what would happen? Where would the Angels be 40 years after the initial launch of the Townsend Agency?,'" explained the film's unit publicist Sasha Gibson. "Angels are everywhere and you may not even know that you're standing right next to an Angel."
2. Who are the new Angels?
While viewers will learn there are Angels all over the world, this film focuses on a new trio of fresh faces and totally different personalities. Sabina, Elena and Jane are played by Kristen Stewart, Naomi Scott and Ella Balinska, respectively. The group is working together to expose potentially fatal technology that Elena created at a massive company. Elena goes to the agency, and ultimately becomes an Angel, after she reports the urgency of the issue to her higher ups and they ignore her. (You can learn more about the Angels and the other characters in our cast guide.)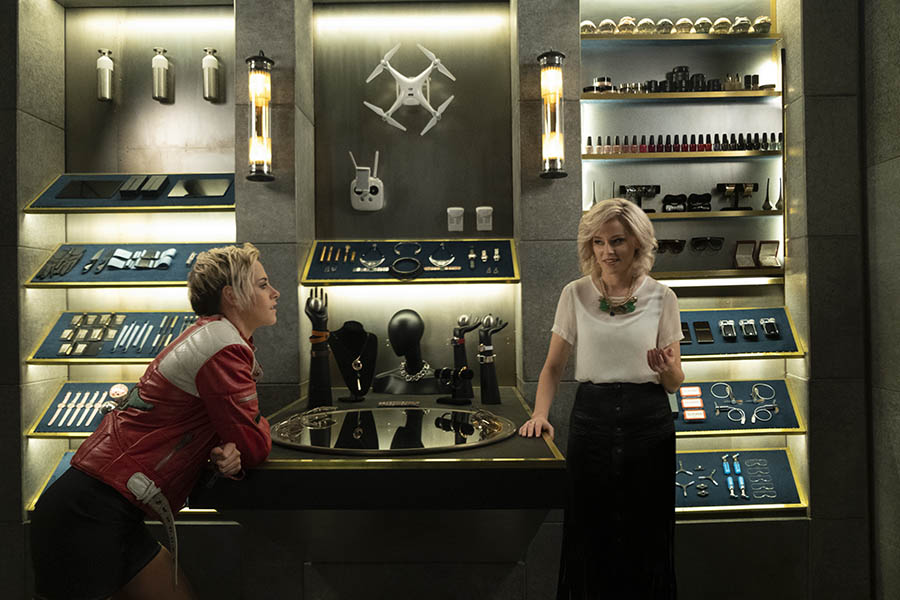 3. Will there be action?
Now what kind of Charlie's Angels movie would this be without action? Elizabeth Banks promises it. "I hope that everybody who loved Charlie's Angels for the female camaraderie and the action and the fun factor, you're going to get all of that and more with this movie," she told reporters on the phone following the visit. Gibson described the action as "high-action and Bond-esque." Not to mention, reporters on set witnessed the action, like seeing Ella Balinska as Angel Jane Kano kick a guy's butt in a dress and combat boots (and practicing some more behind the scenes). Taking a walk down the art department, one would see weapon props like sniper rifles, winged knives and fatal breath mints.
4. Any Easter eggs from the originals?
Absolutely. According to Gibson, this film "respects and celebrates" the four-decade-long history of the originals, including the 2000's films, and viewers "need to keep eyes peeled" for references to the past. (Hint, hint: a newspaper with photos of the original '70s Angels was seen on set.) Banks further revealed that homage to the past is also expressed through costumes, props and photos.
5. Will we finally meet Charlie?
If you mean hear Charlie through that iconic white speaker (as depicted in the trailer), then yes. According to producer Max Handelman, there will be "moments they communicate with Charlie" throughout the film. But will viewers finally see who he is? "Maybe. Maybe not," the producer said. "There's a mystery going throughout: Who is Charlie? If we're playing the story straight, meaning the company was born in the '70s, and it's 2018, you might ask yourself: Who is Charlie? How old would Charlie be today? Who's really running this?" he explained. "And that's a question that comes up over the course of the film."
6. Is the movie like any projects outside Charlie's Angels?
You bet. Banks said she took inspiration from Tony Scott films, Mission Impossible, Wonder Woman, Atomic Blonde and John Wick. Handelman further described how certain characters are inspired by those from films in the past. "Elizabeth was like, we're not gonna do the obligatory training montage, where the female characters get to prove to you why they're badass. They just are," explained Handelman, specifically of Sabina and Jane, who are trained from the get-go. "It's in the same way that you never see Ethan Hunt train to become Ethan Hunt. He just is. When you first meet Jason Bourne, he just is a total badass." Although there may not be direct connections to films Banks worked on with these cast members in the past (like Hunger Games with Claflin and Snow White with Stewart), Claflin said the director reminisced on these films "constantly."
7. What's the new logo?
According to Handelman, it's Banks's take on the modern agency. "Elizabeth really wanted to honor the legacy and mythology of Charlie's Angels, but then take it into contemporary times," the producer said. "So the logo is — those aren't angel wings but they're very digital and modern. If you look at it there's a 'T' in the negative space for Townsend." The Angel tattoo is also their way of communicating and they all have them placed on different parts of their body.
8. Will people from past films be cameoing?
To put it simply: "There is potential." (As teased by Handelman.)
9. Who are the bad guys?
A staple of Charlie's Angels is the discovery of the true villain and twists and turns along the way. There are a few potential villains in this film. One is Sam Claflin's CEO tech billionaire character Alexander Brock (who Elena works for). Another is Jonathan Tucker's mystery man who barely speaks, but what he lacks in dialogue he makes up for in jewelry and tattoos.
10. Who is Bosley?
Depends on where you are. Because the agency has gone international, viewers learn there is a Bosley running each branch all over the world. Banks will play the first Angel that has graduated to become a Bosley, and is overseeing the Angels the film is focused on. Two other Bosleys we'll see are played by Patrick Stewart and Djimon Hounsou.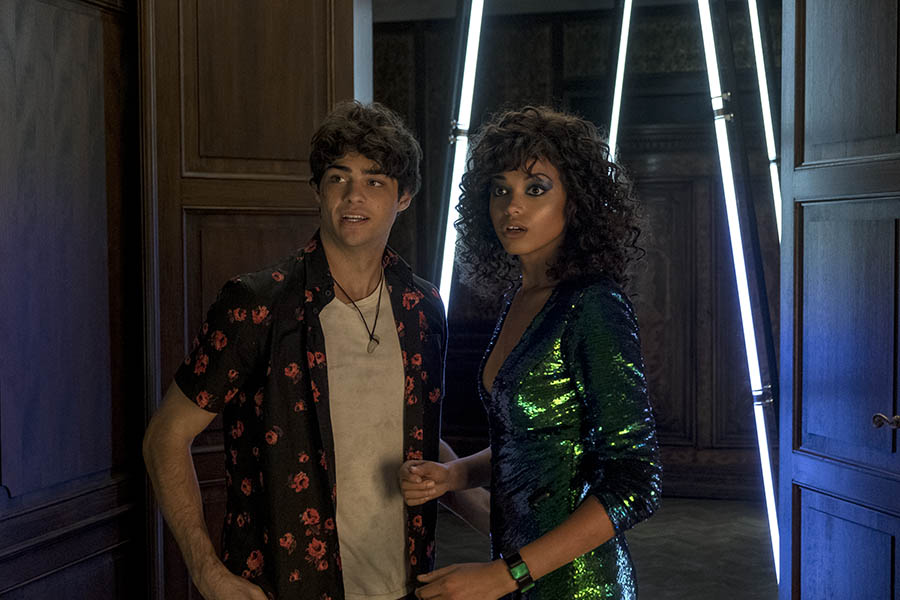 11. Will there be a love story?
Not necessarily, but Handelman did suggest there would be a potential 'ship that viewers will be rooting for. When Claflin was asked if his character would be a love interest, he replied, "He's in love with himself, let's put it that way." Noah Centineo, who plays Elena's colleague Langston, said, "I'm not sure, man. I don't know," while scratching his head coyly. (From the trailer alone, there's already some sparks going on between Langston and Jane.)
12. What's the tone like?
Like the others, this film will kick butt and have impact without taking itself too seriously. However, Handelman did suggest this installment is "much more grounded, much more set in the real world, and deals very much with real-world issues." He explained, "It's inspired by and deals with women in that workplace and whistleblowers and how they've been treated in real companies." Banks said there wasn't much updating that had to be done in terms of honoring the franchise's feminist legacy. "The property has all of the bona fides of feminism already built in. I really didn't have to do much other than honor its entire history," the director said. "This entire endeavor is about giving women the opportunity… that's been in the DNA of Charlie's Angels from the beginning." Stewart explained there's an "infectious lightness" in the film she really appreciates. "It's fun to watch friends like each other. The whole power in numbers thing is a really moving, undeniably human emotional experience," the actress said.
13. Sexuality is a Charlie's Angels staple — how big of a factor will it be?
The film "plays with that trope and then dismisses it pretty early on," according to Banks. "The women in this film use their brains and their wits." The director explained she wanted everybody on set to wear what they felt "awesome and comfortable in" and what they'd personally "want to strut" and fight in (hence Stewart's sneakers and Balinska's combat boots). "We had a mantra, which was 'we are going to fight smarter, not harder.'"