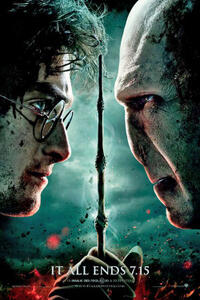 Released
July 15, 2011
PG-13, 2 hr 5 min
Action/Adventure
Sci-Fi/Fantasy
SEE IT IN

35MM

Digital 3D

IMAX

IMAX 3D
ENTER CITY, STATE OR ZIP CODE
GO
Fandango Fanalert™
Sign up for a FanAlert and be the first to know when tickets and other exclusives are available in your area.
Privacy Policy

What Parents Need to Know
Parents need to know that the epic finale of the Harry Potter movie saga, Harry Potter and the Deathly Hallows: Part 2, is the deadliest, most intense, and most touching installment of the lot. Because the majority of the movie is an all-out battle between Voldemort and his army against Harry and his allies at Hogwarts, there's an extremely high body count -- including the deaths of several beloved supporting characters. Most happen off camera, but several bodies are shown. In a few scenes, everyone is bloodied and injured or dead, and it's brutal to watch (a shot of dead goblins is particularly gruesome, and one character's death at the fangs of an evil snake gets pretty gory). Despite the raging battle, Ron and Hermione at last find a moment to snog and spend most of the movie holding on to each other; Harry and Ginny also share a quick kiss. And in the end, it's not the violence that viewers will take away, but the idea that every hero, no matter how brave, needs loyal friends to defeat evil and that love lives on even in the face of death. Note: For the first time, a Harry Potter movie is being shown in 3-D in some theaters, making some of the action sequences even more intense.
Positive messages

Positive role models

Violence

Sexual

Language

Consumerism

Drinking & drugs