Fox brought out the entire cast of X-Men: Days of Future Past (Ellen Page, Shawn Ashmore, Anna Paquin, Halle Berry, Ian McKellen, Patrick Stewart, Hugh Jackman, James McAvoy, Michael Fassbender, Jennifer Lawrence, Nicholas Hoult, Peter Dinklage) to a roaring crowd and a standing ovation. Here's a (blurry) photo of the moment that caused Twitter to implode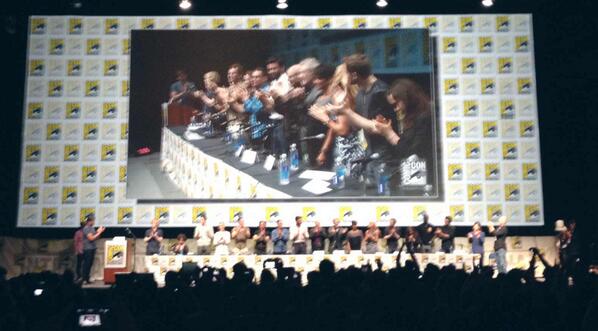 Here's how it all went down, starting from the beginning of Fox's panel.
Going into the studio's Hall H panel, there was a constant buzz that perhaps something would take place regarding the upcoming X-Men: Days of Future Past movie. Director Bryan Singer has not been shy showing off behind-the-scenes looks at the production and sure enough Fox went the route of The Avengers and presented the main cast from Days of Future Past on the Hall H stage.
The studio also showcased footage from The Wolverine and a first look at Dawn of the Planet of the Apes. Let's jump into it.
Dawn of the Planet of the Apes
Who Was There: Director Matt Reeves, Keri Russell, Jason Clarke, Andy Serkis
The film takes place 10 years after the last film. Caesar has teenage son, an infant and a wife. Serkis described him as a, "Strong, powerful, peaceful leader."
We then see a sizzle clip that is a slow zoom out from Caesar's face as he waits to give the green light to an army of apes behind him.
The panel ended without an audience question session. Instead, we move on to...
The Wolverine
Who Was There: Director James Mangold, Hugh Jackman
A loud, flashy 3D sizzle reel is shown twice, showcasing Wolverine's berserker rage. When it concluded, Jackman said, "This is something completely new, completely fresh." Mangold joked, "The hair is less '80s rock."
Again, there was no audience question session. There's a good reason why. Bryan Singer walked out onto the stage and after a teaser trailer for Days of Future Past, he was joined by almost the entire cast of the movie. Hall H went absolutely out of its mind. If the roof was bolted down, it would have blown away.
Singer said, "to blend the two casts is a thrill for me."
Jackman said, "This is an embarrassment of riches," and that he felt blessed to return and work with a lot for familiar faces.
McKellen got a huge applause when he said, "I feel safe now that you got rid of Prop. 8." He then looked down the table at Fassbender and said, "I'm looking for a husband. Nice to meet you Michael."
Deadpool was certainly a popular topic. Singer answered a fan question of whether the "Merc with a Mouth" would be appearing in future X-Men movies. Singer replied, "The X-Men universe is every bit as large as Marvel and DC. There's a lot of room for growing and expanding."
Another fan question asked who each actor would like to play. Jackman answered Deadpool while McAvoy answered Gambit and Ashmore said Nightcrawler. But it was Stewart who provided the best answer. "Any X-Woman because it seems no lead to winning an Academy Award," making reference to Berry, Page and Pacquin's Oscar success.
Singer talked a bit about the costuming and joked that, "Peter Dinklage looks like my father in this film." Dinklage calmly replied, "That handsome?"
Jackman recanted a story of how he dressed up in his full Wolverine costume and walked around Comic-Con to see if anyone would recognize him. He said one guy almost did and another said he was too tall.
The panel ended with a standing ovation and was clearly the highlight of Hall H so far and, perhaps, even Comic-Con.